Posted on
Sat, Apr 20, 2013 : 5:58 a.m.
Selma Cafe halts operations after city says it violated zoning codes
By Amy Biolchini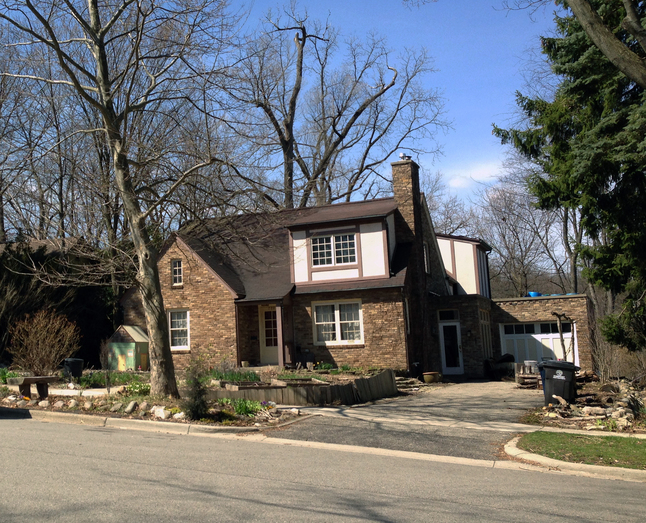 Amy Biolchini | AnnArbor.com
The future of Ann Arbor's west side breakfast operation
Selma Cafe
is in limbo as owner
Lisa Gottlieb
faces zoning code violation issues and works to re-gain control of its frozen finances.
The cafe, run by volunteers and donations out of Gottlieb's home at 722 Soule Blvd. served up its last meal April 12, according to a letter sent to the city of Ann Arbor offices Monday.
"We're closed now — I can say that," Gottlieb said. "It just makes the most sense right now."
The city of Ann Arbor notified Gottlieb that Selma Cafe was in violation of city zoning codes in an April 3 letter from Wendy Rampson, the city's planning manager.
"Our numbers have stabilized in the past year or two," Gottlieb said. "We were serving anywhere from 150 to 200 people (each Friday) for the past several years … and that was the issue."
AnnArbor.com file photo
Rampson's letter asked Gottlieb to respond by Monday with either a schedule of how Gottlieb would discontinue cafe operations, or with her plans to re-locate.
Gottlieb's response was to stop all operations of the cafe for the time being, as there is another pressing matter affecting Selma Cafe's future.
Selma Cafe's fiscal sponsorship
Selma Cafe's assets - consisting of tens of thousands of dollars in donations from patrons of the cafe - are frozen in an account held by Food System Economic Partnership, the cafe's formal fiscal sponsor.
As the fiscal sponsor, FSEP's involvement gave the cafe the nonprofit organization status it needed to legally operate as a food-service establishment.
FSEP dropped its sponsorship of the cafe March 27 after a disagreement between the two parties on its operating agreement - thereby removing Selma Cafe's nonprofit organization status.
It also means Selma Cafe will have to find a new fiscal sponsor or gain independent nonprofit status before Gottlieb can transfer the funds out of FSEP's control.
Under the memorandum of understanding between Selma Cafe and FSEP, that must be done by May 31 or FSEP keeps Selma Cafe's money.
Gottlieb said she was unable to access the funds in the FSEP account two weeks before she formally was notified they were dropping their sponsorship. "Right now our focus needs to be on getting a new fiscal sponsor," Gottlieb said.
Gottlieb said Selma Cafe is in talks with a local 501(c)3 organization, and hopes to have a fiscal sponsorship agreement solidified soon so that Selma Cafe can re-gain its nonprofit organization status and re-gain control of its funds.
Rampson said Selma Cafe's zoning code violations were not related to FSEP dropping its fiscal sponsorship.
The city has not gotten involved with Selma Cafe's operations in the past four years because they had not received any complaints, Rampson said.
"We generally, because of our limited staffing, don't get involved … unless there are specific complaints made," Rampson said.
The city first received an anonymous complaint about traffic in the neighborhood related and that Selma Cafe was operating without a food license in 2009, Rampson said.
After Washtenaw County Public Health determined Selma Cafe was operating legally as a non-profit organization, Rampson said the city didn't pursue enforcement at that time.
March 8, Rampson said the city began receiving complaints again about Selma Cafe operations through phone calls, walk-in complaints and written letters.
The timing of the complaints corresponded with an Ann Arbor Observer article published March 8 on Selma Cafe that mentioned Gottlieb would be adding a happy hour, Rampson said.
Rampson said complaints were a combination of the business being operated out of a home; about alcohol being served at the happy hour and others were about traffic from Selma Cafe patrons in the neighborhood.
Operations
Selma Cafe started in 2009 and is located in Gottlieb's home on Soule Boulevard.
Her home is the last one on the block before Soule Boulevard becomes the entry drive for Eberwhite School. It's also near to the rear entry drive to the parking lot for Zion Lutheran Church.
The following is a video showing the proximity of Gottlieb's home to her immediate neighbor and the school:
The cafe hosted volunteers on Thursday nights to help prepare for the breakfast the following morning — and at night volunteers were instructed to park at Eberwhite School.
Friday morning, preparations would begin early by a crew of volunteers. Diners were instructed to arrive at 6:30 a.m. and were accepted until 9:30 a.m.
Meals each Friday morning are coordinated by local guest chefs, who also volunteer their time.
Food is locally sourced and purchased from area farmers. Donations of $12 to $15 per diner are suggested, as the donation money is used to buy food for the following breakfasts and to fund microloans for farmers.
AnnArbor.com file photo
Each week, Selma Cafe brought in between $1,800 to $2,000 in donations, Gottlieb said.
About one-third of the donations are used to purchase food, Gottlieb said.
The other two-thirds are used to help farmers. In the first several years of Selma Cafe, that money was used to help farmers purchase kits for hoop houses from a company in Ohio, Gottlieb said.
After the summer of 2011, more grant funding became available for local farmers to buy hoop kits and so Selma Cafe started funding microloans for farmers to buy equipment instead, Gottlieb said.
This year, Gottlieb has started hosting more events out of her home: A one-time happy hour fundraiser, for which Gottlieb obtained a temporary liquor license; a Balkan dance party that about eight people attended; and two Sunday morning yoga sessions in the basement of Gottlieb's home followed by a local food lunch. Her basement has a yoga studio that holds about 10 people, Gottlieb said.
Zoning violations
In the four years of operations, Gottlieb said she has not received any complaints or notifications of city ordinance violations regarding the traffic in her immediate neighborhood until this March, when she was first contacted by the city.
"When I heard the issue was traffic and parking congestion, I immediately made changes to address the traffic," Gottlieb said. "As far as I've known, the parking issues have only happened since this March."
With messages to volunteers and diners through emails and on Selma Cafe's website, Gottlieb outlined a parking plan to keep the traffic down around her home.
It did not prevent the City of Ann Arbor from issuing the April 3 letter to Gottlieb, indicating that she needed to change her operations or face enforcement of the ordinance.
Rampson's letter cited a number of complaints the city has received by multiple parties about the traffic issues created by the weekly breakfasts at Gottlieb's house.
The following zoning code violations were cited by Rampson:
More people are involved in the operation than just those residing in the home
More than the permitted 10 vehicle trips per day are generated in the vicinity of the home
The need for parking is not being met on off-street parking facilities
"I disagree with those three violations," Gottlieb said, explaining she knows Selma Cafe diners contributed to more than 10 vehicle trips but alleviated the problem through her parking plan. "I've made every possible concession."
A vehicle trip is defined as a one-way trip to a place. The city's zoning ordinance allows for five round-trip vehicle trips that are business related to a residence, Rampson said.
Additionally, the parking need created by the Selma Cafe patrons was not being accommodated, Rampson said. City code requires users of the cafe to park in driveways and garages, not in the street.
"Any type of on-street parking is not considered appropriate for home businesses and home occupation," Rampson said.
Selma Cafe also violated the zoning ordinance for home occupation because it was run by more than just the family members, Rampson said.
City codes allow for one employee. The number of volunteers needed to run the cafe violated the performance standard, Rampson said.
"We're an unusual unique thing; we don't fit in to the typical ways that people are used to seeing things happen," Gottlieb said. "So it makes sense we wouldn't fit in to somewhat vague, limited ways of describing use."
Rampson said Selma Cafe is in compliance with the city because they are temporarily ceasing operations.
After Gottlieb is able to secure a fiscal sponsor for Selma Cafe and re-gain control of its finances, she said she will be able to consider future possibilities for the operation.
"I am really proud of what we created, both financially for our community, for our farmers, for local food artisans … I can't tell you the number of people that have written me and thanked me," Gottlieb said. "Whatever that spirit of Selma Cafe has, it will continue to happen. It may not happen here, but it will continue to happen … whether it will happen in my house or not."
Amy Biolchini covers Washtenaw County, health and environmental issues for AnnArbor.com. Reach her at (734) 623-2552, amybiolchini@annarbor.com or on Twitter.