Posted on
Mon, Feb 18, 2013 : 7:18 p.m.
Semi-nude pictures of University of Michigan fraternity gain unwanted attention
By Kellie Woodhouse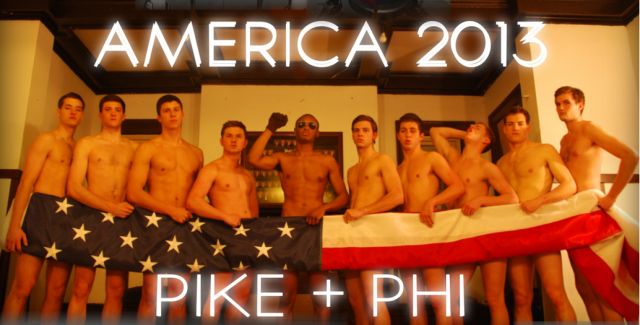 The University of Michigan says its Office of Greek Life is investigating a fraternity's semi-nude photos that are garnering unwanted attention.
The pictures, which show many Pi Kappa Alpha fraternity members clad in nothing but an American flag, and an accompanying email were sent to U-M sorority Alpha Phi prior to a joint party.
The email and photos were leaked to brobible.com and were later posted on Jezebel.com, a popular alternative blog owned by Gawker Media.
U-M spokesman Rick Fitzgerald said the Greek life office and Interfraternity Council would consider whether disciplinary actions are appropriate and whether the group's actions were in keeping with the fraternity's code of conduct.
"The office of Greek life just learned about the photos today," Fitzgerald said. "We need to let the office of Greek life deal with it."
According to the post on brobible.com, the fraternity's social chair said he didn't expect "every frat and sorority to get their hands" on the email.
The fraternity has since blocked access to its Flickr account, where the images were posted. A student contact for the fraternity did not return an email requesting comment.
On its website the fraternity lists integrity as one of their values, saying members seek "the full development of their intellectual and personal potential."