Semi truck rolls over on I-94; Four people transported to hospital
Posted on Mon, Apr 23, 2012 : 10:53 a.m.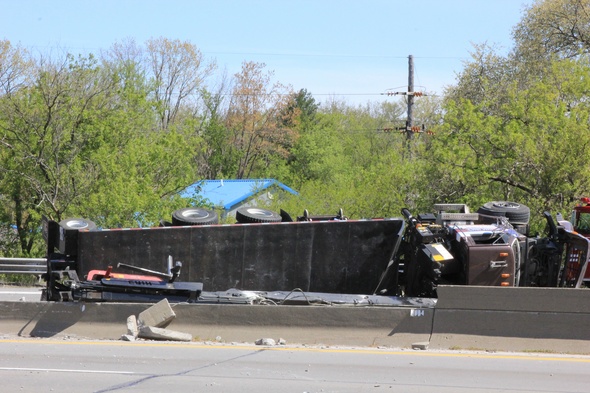 Danny Shaw | AnnArbor.com
Editor's note: Initial reports indicated the truck was westbound when the accident occurred. Police have since released updated information confirming the truck was eastbound. The story has been updated.
Emergency crews responded to westbound Interstate 94 at Jackson Road Monday morning after a semi truck rolled over, causing both sides of the freeway to be closed. Police said just after 12:30 p.m. that the eastbound lanes had reopened.
At 2:10 p.m., all lanes on the freeway lanes were open, according to police.
Police, fire and Huron Valley Ambulance crews were all being sent to the area at 10:50 a.m. Monday, dispatchers said. The truck was heading east and crashed through the median and landed on its side. Two men were trapped inside.
A Ford Explorer also hit the wall. Two people were inside. Firefighters assisted by HVA removed all the patients.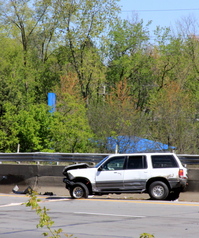 Danny Shaw | AnnArbor.com
Four people were transported to University of Michigan Hospital with non-life threatening injuries, according to Michigan State Police Sgt. Mark Thompson.
Drivers were being diverted onto Jackson Road from the westbound lanes and onto M-14 from the eastbound lanes.
Also during the incident another accident occurred on eastbound I-94 west of Jackson. Four cars all rear ended each other, according to Ann Arbor Battalion Chief Robert Vogel. Westbound I-94 will be closed for an extended period of time for wall repair.
Drivers were encouraged by authorities to avoid the area for the next several hours as clean up and investigation into the accident took place, according to an alert sent out by the Washtenaw County Sheriff's Office.
Check back to AnnArbor.com for more information on this story as it becomes available.