Posted on
Thu, Apr 7, 2011 : 3:23 p.m.
Seven cocker spaniels rescued after being dumped along road in Salem Township
By Lisa Allmendinger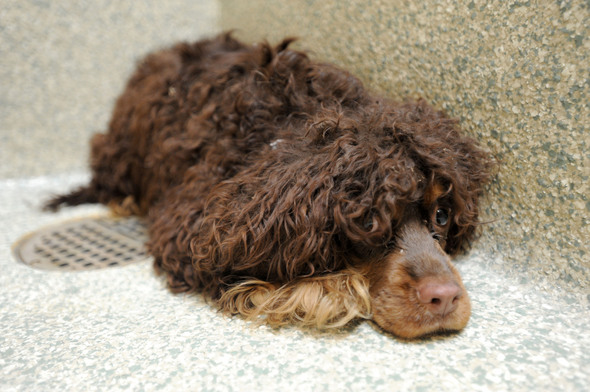 Angela J. Cesere | AnnArbor.com
Seven purebred cocker spaniels were recently found abandoned in Salem Township near the intersection of Five Mile and Salem roads, and the Humane Society of Huron Valley is looking for information about who might have dumped the dogs.
"Someone, most likely a puppy mill or backyard breeder, simply dumped these dogs off on a rural, dirt road and then drove away," said Matt Schaecher, HSHV director of cruelty and rescue.
The Humane Society is offering a $500 reward for the arrest and conviction of the people involved.
Schaecher said five dogs were found on April 1, another dog on April 2, and one today.
"They were all found running loose," he said Thursday, after combing the area following up on calls from concerned residents who saw the dogs. "The dogs were dumped and left to fend for themselves. It's disturbing to see dogs discarded because someone decided they could no longer be used to make a profit," he said.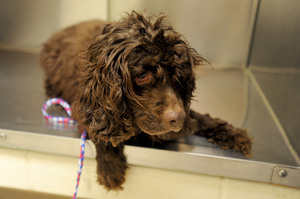 Angela J. Cesere | AnnArbor.com
There are six females and one male, he said. There is a black and white dog, a solid chocolate, two chocolate and white, one blonde, one black, and one chocolate and tan.
The oldest dog is approximately 12 years old and the youngest is about 6. Humane Society officials said in a news release that the dogs "had clearly been used for breeding and did not receive proper care."
Carrie Allen, the Humane Society veterinarian, is evaluating the dogs.
"All (the dogs) are in horribly neglectful states, with overgrown, badly matted feces-covered fur. It appears that they have been housed in small cages amidst their own waste," she said.
Some are very old and appear to have had at least one litter of puppies a year for many years, she said. The dogs are being assessed medically and behaviorally, and officials are hopeful that all the dogs can be placed for adoption at the society's 3100 Cherry Hill Road location.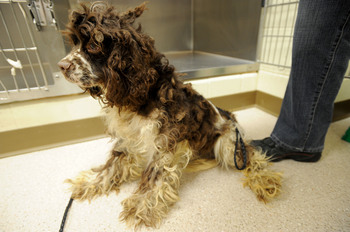 Angela J. Cesere | AnnArbor.com
One dog is believed to be blind, and all were severely matted, but the first five found should be available for adoption Friday.
The abandoned spaniels are described as sweet, but several are a little skittish, and some have special needs. Anyone interested in the dogs can call 734-662-5585, or stop by the shelter, which is open daily from noon to 6 p.m. for adoptions.
Melinda Hart, past president of the Ann Arbor Kennel Club and current president of the Detroit Cocker Club said that cocker spaniels have to be kept groomed so the coat doesn't mat, usually every 6 to 8 weeks.
When asked about potential health problems in the breed, she said that because of their drop ears, they are prone to ear problems, so owners need to keep a close eye on them so they do not get ear infections.
"Like many breeds, they can have skin, eye and thyroid problems," she said.
Cocker spaniels are generally an active breed and rank as the No. 25 most popular breed in the country, according to American Kennel Club registration statistics. The dogs range in height from 13½ inches to 15½ inches at the shoulder.
Schaecher said if people would like to help, they can make donations to the Humane Society's cruelty department. Anyone with information about where these dogs came from should call the Humane Society anonymous tip line at 734-661-3551.
Lisa Allmendinger is a regional reporter for AnnArbor.com and can be reached at lisaallmendinger@annarbor.com.