Posted on
Fri, Jan 25, 2013 : 7:45 a.m.
Several crashes reported on I-94, M-14 as snow falls in Ann Arbor area
By Cindy Heflin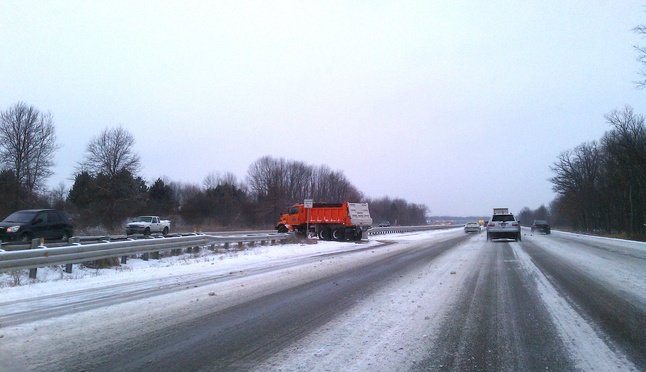 10:40 a.m. update: Emergency crews were dealing with seven crashes on Washtenaw County freeways, a dispatcher with the Washtenaw County Sheriff's office said. Those included one on eastbound Interstate 94 at Old U.S. 12 that was causing a significant backup and a crash on northbound U.S. 23 in the area of Carpenter Road near Milan.
Multiple crashes, mainly on westbound Interstate 94, were making a mess of the morning commute in the Ann Arbor area Friday.
At 8:50 a.m., dispatchers listed crashes on the freeway at Huron Street in Ypsilanti, U.S. 12 between Ann Arbor and Ypsilanti and Zeeb Road and Baker Road in Scio Township west of Ann Arbor.
Crashes were also reported on northbound U.S. 23 and Washtenaw Avenue and U.S. 23 and I-94. Emergency crews were also dealing with a crash at M-14 and Ford Road.
Numerous crashes and spinouts had been reported throughout the morning rush hour.
The Washtenaw County Road Commission has trucks out; however, falling snow and cold temperatures have created slippery conditions. Motorists were urged to slow down.
The National Weather Service issued a special statement Friday morning warning that a burst of snow could reduce visibilities and create slick road conditions. Forecasters predict total snowfall of 1 to 2 inches for the Ann Arbor area Friday.