Posted on
Thu, Jun 27, 2013 : 4:25 p.m.
Severe thunderstorms flood streets, knock out power in Ann Arbor
By John Counts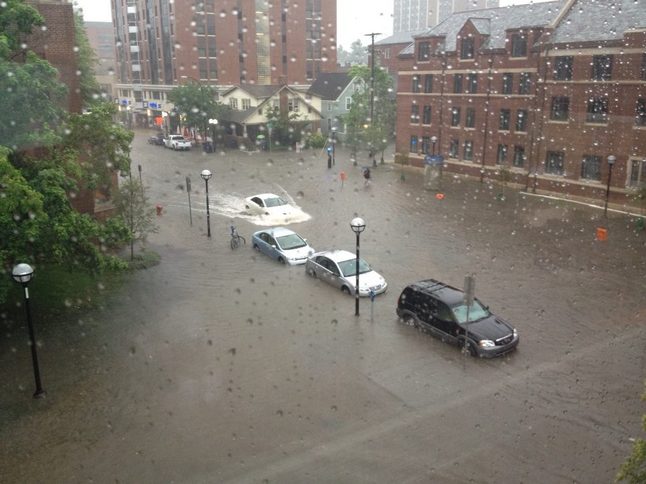 Photo courtesy of Robert Norris
Severe storms that brought a pre-Fourth of July display of lights in the sky rolled through Ann Arbor Thursday.
Lightning, thunder and heavy rains whipped through the area and were expected to continue until 5 p.m. Several streets were reported flooded in Ann Arbor, and lights flickered downtown.
The National Weather Service issued an urban and small stream flood advisory, effective until 8 p.m. for Washtenaw County. Excessive runoff from this storm will cause minor flooding of small creeks and streams, urban areas, highways, streets and underpasses, the weather service said.
Photo submitted by Caroline Schuerman
Ann Arbor police were responding to several areas in the city around 4:45 p.m.
Sgt. Mike Scherba
said the intersection of First and Kingsley streets experienced the worst amount of flooding.
"There's a lot of water on the ground still," he said.
Other flooded intersections included Packard and Madison streets, State and Hill streets and Huron Parkway and Washtenaw Avenue. Scherba said cars were getting stuck in the intersections.
There was also extensive flooding reported at the city parking lot at First and William streets.
Depot Street, which was underwater Wednesday due to a water main break, also experienced flooding and a car appeared to have stalled in the street.
The National Weather Service said the Warren Road underpass at U.S. 23 north of Ann Arbor was flooded and closed.
The National Weather Service had issued a severe thunderstorm warning for southeastern Washtenaw County effective until 5 p.m.
At 4:08 p.m. a storm moved through in a southeasterly direction at 5 mph, according to the weather service. The storm was capable of bringing quarter size hail and 60 mph wind gusts. Damage to vehicles was possible, the weather service said.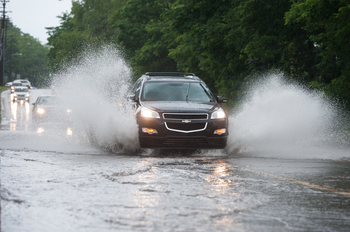 Courtney Sacco | AnnArbor.com
The DTE Energy Power Outage map showed a few scattered outages in the Ann Arbor area. The largest, affecting about 1,300 customers, straddled parts of Pittsfield, York and Ypsilanti townships. Restoration was expected between 6:30 and 8:30 p.m.
Another stretched across Stadium Boulevard in Ann Arbor from Pauline Boulevard on the north to roughly Avendale Avenue on the south. That outage was affecting 472 customers. Restoration was expected between 6 and 8 p.m.
Joyce Williams with Huron Valley Ambulance said there were numerous reports of vehicle crashes Thursday evening around the time the storm passed through, including M-14 and Main Street, Interstate 94 and Huron and U.S> 23 at Geddes.
Williams said there were no major injuries.
See a video of flooding on East University between Hill Street and South University below:
This story will be updated as more information becomes available.
John Counts covers cops and courts for AnnArbor.com. He can be reached at johncounts@annarbor.com or you can follow him on Twitter.