Posted on
Wed, Jul 25, 2012 : 5:58 a.m.
Sexting a normal part of dating? U-M researcher says it's become 'another way of flirting'
By Kellie Woodhouse
Sexting may not be as taboo as you think.
In fact, a new study concludes that the practice has become "another way of flirting" for the Internet generation, said Jose Bauermeister, an assistant professor at the University of Michigan School of Public Health.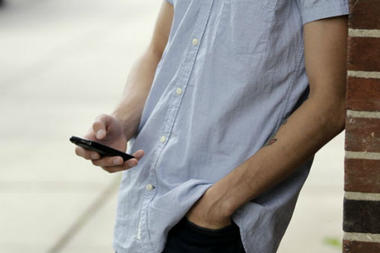 "It doesn't seem to be problematic," he said, adding that sexting is becoming "more and more common."
"Just like when the Internet rolled out ... we should expect to see technology embedded in our sexuality," he continued.
According to a U-M SexLab and Prevention Research Center of Michigan study of 3,500 young adults between 18 and 24, roughly 43 percent had received or sent sexts.
Bauermeister and other researchers found that 28 percent of sexters sent and received sexual pictures on their phone, 13 percent received and 2 percent sent without receiving pictures in return.
Fifty-seven percent of respondents said they had never engaged in sexting.
Respondents were asked about depression levels, anxiety levels and self-esteem evaluations. According to the study, there was no significant variance in responses from participants that sexted and those that didn't.
There also wasn't much difference in the level of unprotected sex among the two groups, although sexters were more likely to be sexually active.
"What was surprising to us was given all the 'hurrah, hurrah' and the long-standing assumption that sexting must be associated with risk… we actually didn't see any of that," said Bauermeister.
"As to be expected, though, individuals who engage in sexting were also more likely to be sexually active in their lifetime," he added.
The study also found that men are more likely to receive a sext without sending one in return.
While the study didn't find a correlation between sexting and mental health problems, study authors suggested more research is needed "to examine the association between sexting and mental health" because "pressure to sext and viral sexts may present mental health risks."
The study findings do not pertain to teenage sexting, which is prohibited by law in at least 17 states.
"For younger age groups, legality is an issue," study co-author Debbie Gordon-Messer said. "They are also in a very different place in their sexual development."
A March U-M survey found that while the majority of adults disapproved of teenage sexting, they thought the practice shouldn't be criminalized.
Kellie Woodhouse covers higher education for AnnArbor.com. Reach her at kelliewoodhouse@annarbor.com or 734-623-4602 and follow her on twitter.