SHEI Magazine fall fashion show tonight at Sava's, featuring Lululemon Athletica, Bivouac
Posted on Sat, Nov 13, 2010 : 10:30 a.m.
SHEI Magazine, the University of Michigan student fashion magazine, will host its fall fashion show tonight at Sava's State Street Cafe in collaboration with Lululemon Athletica and Bivouac.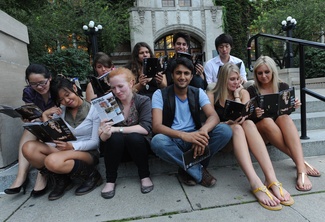 Melanie Maxwell | AnnArbor.com
The theme of the show, said SHEI literary editor Bridget Bodnar, is the versatility and wearability of clothes normally considered athletic (such as Lululemon Athletica's yoga-inspired looks) or outdoorsy (Bivouac's tagline is "where outdoor passion meets indoor fashion).
The fashion stores will supply their signature looks. SHEI will supply the models. Sava's will offer free admission and drink specials featuring champagne and Oberon.
The fashion show starts at 10:30 p.m., but SHEI recommends arriving at 10 to beat the crowd. For more information, visit SHEI's website.
James David Dickson can be reached at JamesDickson@AnnArbor.com.