Posted on
Thu, Feb 18, 2010 : 6:02 a.m.
Washtenaw County sheriff guides $2 million turnaround first year in office
By Ryan J. Stanton
Recapping his first year in office, Washtenaw County Sheriff Jerry Clayton detailed a nearly $2 million turnaround in the sheriff's department - a combination of nearly $1 million in reduced operating expenses and $1 million in enhanced revenue.
Clayton gave a "state of the office" presentation Wednesday night to the Washtenaw County Board of Commissioners.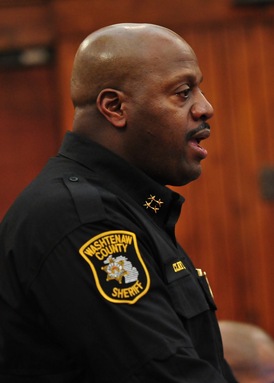 Ryan J. Stanton | AnnArbor.com
"This has very little to do with me as sheriff and more to do with our staff," Clayton said. "The deputy sheriffs, the corrections officers, the people in the business office, the dispatchers - really it's their efforts and the work that they've put in that allowed us to meet a lot of the goals that we set."
Clayton, a former sheriff's department commander who retired with 20 years experience, stepped into office in January 2009, determined to change the way business is done in the sheriff's department. Clayton put an end to the tumultuous tenure of former sheriff Dan Minzey by beating him by more than 4,300 votes in the 2008 Democratic primary.
One of Clayton's goals was to reduce overtime costs by $1 million. Addressing the Board of Commissioners Wednesday night, Clayton highlighted a 36 percent reduction in overtime hours in his first year - a drop from 71,829 to 45,862 from 2008 to 2009.
The costs associated with those hours decreased from about $2.5 million to $1.5 million during that time.
"We did that by really continuing our organizational assessment, trying to find out where the leaks are," Clayton said. "We challenged old assumptions about how you deploy your staff and the best strategies for doing so."
For example, Clayton said, he took a hard look at corrections operations and staffing levels for each shift.
"There were three posts that we identified as nonessential that we really didn't have the staffing for," he said. "So understanding that, we were really staffing those posts on overtime, straight overtime on a continual basis. So we said, well, first what we'll do is we'll eliminate those posts on a trial basis."
It worked out and saved money, he said.
According to Clayton, revenue generated by the sheriff's department increased from $13.4 million to $14.4 million from 2008 to 2009.
Despite cutting back on operational costs, the overall expense budget actually held steady, coming in just under $40 million both years. Salaries and fringe benefits rose from $25.5 million to $26.4 million. 
But other operating costs, including overtime, decreased from $13.1 million to $12.2 million. Money spent on uniforms and guns went from $360,947 to $510,802.
During his report, Clayton talked about his 10 Points of Change, which he campaigned on two years ago:
Implement an operational service delivery program.
Create a Sheriff's Office Youth Engagement Initiative.
Establish an early intervention system.
Implement a fiscal management system.
Create an employee training and professional development program.
Implement inmate behavior management and community policing.
Implement a comprehensive and objective employee evaluation program.
Implement an inmate population management plan.
Conduct a service delivery assessment and survey process.
Implement a public performance reporting program.
"The 10 points are aligned with our vision and our mission," Clayton told commissioners. "They are concrete targets that we've identified in the four-year term. And our belief is that, if we accomplish these 10 points, then we will fulfill our mission in the first four years of the sheriff's office."
Clayton said the department is embarking on a new operational philosophy. He talked about efforts to collaborate and align resources.
"Our success as an office - the foundation is not just us," he said. "It's who we partner with and how we partner with them. And I'll give you one example: The Ypsilanti dispatch initiative that we engaged with the city on. We are now dispatching services to the city of Ypsilanti. I've received feedback from the chief ... from other officials in the city and a couple residents actually, and the transition went smoothly."
Clayton said his priorities right now revolve around the county's jail expansion and rolling out a new police services cost model.
The county is in the process of adding 112 beds to the 332-bed jail at 2201 Hogback Road. Washtenaw County's jail is the smallest per capita of all the county jails in Michigan, which has led to overcrowding challenges in recent years.
Commissioner Barbara Levin Bergman, D-8th District, said mental health services - including substance abuse treatment -Â are an important component of the county's response to individuals who enter the criminal justice system. She said it's a challenge since state funding for those services is being reduced.
Commissioner Jeff Irwin, D-11th District, said he's concerned that about two-thirds of the county's jail population is black. U.S. Census Bureau statistics show only 12 percent of the county residents are black.
"The real question starts to become, well, what is the genesis of the disparity?" Clayton said. "Is it because one particular group is more prone to this type of behavior? I would argue no. Is it a socioeconomic issue? I would argue yeah, that's a part of it."
Irwin said he hopes to see recidivism rates go down.
"We have, at least from the last data I saw, a recidivism rate whereby 70 percent of the people who are currently in the county jail are going to be back within two years," he said. "What's driving our out-of-control number of guests out there at Hogback is repeat customers."
Clayton said his administration is taking two approaches to reducing recidivism rates in Washtenaw County.
"We have to be able to accurately assess risk, so those folks that need to be in jail that are a serious threat to community safety should be in jail," he said. "But I would argue a lot of the folks that are in our county jail right now wouldn't pass that risk test, so there needs to be alternatives to incarceration ... whether it's tether, work program, work release - whatever those are, they have to be sound programs that the courts have confidence in."
But there's a larger root cause, according to Clayton.
"A lot of those folks that are in our jail have other issues, be it substance abuse, be it employment issues, be it education issues, be it all those things," he said. "And we don't address those things on an ongoing basis."
Clayton told commissioners he has been in talks with county administrators about the level of staffing needed in the near future for the expanded jail. That will be the topic of a working session on March 18, and the sheriff could come back with a proposal in April that would require board action.
Ryan J. Stanton covers government for AnnArbor.com. Reach him at ryanstanton@annarbor.com or 734-623-2529.