Posted on
Thu, Jul 7, 2011 : 5:59 a.m.
Police see early signs of success in summer crime suppression plan in West Willow
By Tom Perkins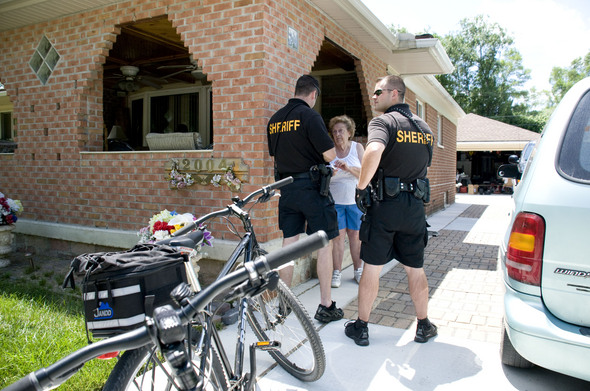 Tom Perkins | For AnnArbor.com
On a recent bicycle patrol through Ypsilanti Township's West Willow neighborhood, Washtenaw County Sheriff's Department deputies Jim Roy and Nick Krings stopped a car driven by a known drug-dealing suspect. The man fled and ran out of view. Roy and Krings temporarily lost his trail until a resident pointed to where the man was hiding behind two houses and said, "He went that way."
The man, who was wanted on several felony warrants, was then apprehended, thanks in part to the resident's assistance.
"A couple years ago, that never would have happened and we would have gone right by the houses," Roy said. He said residents in the past didn't trust police enough to offer them assistance, but that is changing this summer.
With a two-pronged summer operation that includes a violent crime squad and a more visible neighborhood unit dedicated to addressing neighborhoods' quality of life issues, the Sheriff's Department hopes to reduce crime in several problematic Ypsilanti Township areas over the summer.
As part of the community policing team Roy, Krings and other deputies are out on foot and bike almost daily in the West Willow, Sugarbrook and Ecorse- Harris Road neighborhoods of Ypsilanti Township. The area lies between Michigan Avenue and Ford Lake, east of the City of Ypsilanti. It's bounded by Harris Road on the west and McCartney Avenue on the east.
The approach helps the deputies regularly meet and interact with residents and improve what some say was a formerly strained relationship between the neighborhood and Sheriff's Department. Those improved relationships, police officials say, will help deputies fight crime.
Another strategy officials are testing this summer is using five public surveillance cameras that can be moved throughout the West Willow neighborhood. The plan is to have the cameras face public parks and streets, but never directly into or at anyone's home. Several of the cameras are up but haven't been used as township officials resolve logistical issues.
Although it's still too early in the operation to fully determine the new measures' effectiveness, Lt. Jim Anuszkiewicz is encouraged by some trends he sees in his weekly reports to Ypsilanti Township officials.
Weapons offenses have increased by 23 percent this year, which Anuszkiewicz said is due in large part to officers making an extra effort to enforce gun laws and get guns off the street.
One of the primary concerns over the last nine months has been an increase in gun violence. Lt. Anuszkiewicz said there were two murders in 2010, but four in the first three months of 2011, and the township also saw a spate of attacks with firearms in the early part of the year.
From January 1 through April 30, which marked the beginning of the summer operation, assault crimes were up 37 percent over last year. Assault crimes include everything from shootings to assault to armed robbery. Weekly reports indicate those crimes have decreased by 9 percent since May 1, despite that they traditionally increase during summer months.
Officials declined to provide details on how the violent crime unit operates except to say that it is targeting West Willow and several other neighborhoods where violent crimes are a problem.
Although the community policing team's impact on crime may be less tangible, its work is just as important, officials say.
On a recent afternoon, as Roy and Krings rode their bikes through West Willow, residents waved and thanked the deputies for their efforts, and several approached them with concerns.
Roy and Krings, who were picked for the beat because of a spotless track record in interacting with the community, said people are a lot more open with officers on bikes than they are with officers in a patrol car. The patrol car presents a literal and figurative barrier.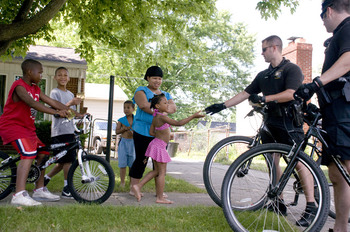 Tom Perkins | For AnnArbor.com
"People are a lot more forthcoming with us out here on bikes," Krings said. "Being on a bike instead of in a patrol car breaks that barrier down and people are more willing to approach us. They see our faces a couple times and they're much more willing to help us out.
"But for the most part we're just trying to be as visible as possible."
The officers said they receive more tips on issues large and small. When some kids were recently knocking down tree branches and throwing them in the street, a resident stopped the deputies as they rode past and reported the behavior.
They give out their cell phone numbers to residents so residents can call them directly instead of having to dial 9-1-1 and speak to someone they don't know. Often Krings and Roy deal with quality of life issues — vicious dog problems, vandalism, loud music — and pay close attention to the area's juvenile population.
Sheriff's department spokesman Derrick Jackson said deputies are also paying closer attention to homes where they respond to more calls or where repeat offenders live. Deputies are knocking on their doors, talking to those residents and letting them know the police are there and watching, he said.
Jackson said the more personal service and proactive policing is a better all-around approach for the community and the department.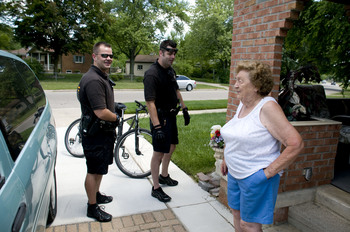 Tom Perkins | For AnnArbor.com
"We're not just out there arresting people, but addressing the root causes of crime," he said. "Ultimately we're still trying to solve crime, but we're trying to do it in a little smarter way by becoming an integral part of community. That is the impetus for this summer plan."
Jackson also said the community policing strategy helps with safety perception. West Willow accounts for 5.5 percent of the Township's population and about 7.5 percent of its crime. Jackson said that isn't particularly disproportionate, but the perception is that it is an unsafe neighborhood historically. A visible community policing team helps make residents feel safe. Linda Mealing is a member of the New West Willow Neighborhood Association and has lived in West Willow since 1971. She said she has seen deputies biking through the community this summer and believes the community policing team is an effective idea for the neighborhood.
"I'm feeling positive about some of the changes being done," she said. "I think (the sheriff's department) is listening to us at our neighborhood meetings, listening to the complaints, and I feel that they've had made a lot of good changes that have needed to be done since the new sheriff has been there."
She said her biggest concern remains home invasions, which officials say are down 8 percent in the township overall this year. But she said the neighborhoods' residents have a responsibility to remain alert and vigilant.
"It's our neighborhood and we have our part to do and we have to do what we can to help them be more effective," she said.
Tom Perkins is a freelance reporter for AnnArbor.com. Reach the news desk at news@annarbor.com or 734-623-2530. For more Ypsilanti area stories, visit our Ypsilanti page.