Posted on
Thu, Jan 10, 2013 : 5:59 a.m.
Sheriff's office remembers police dog that sniffed out everything from drugs to $1.9 million
By John Counts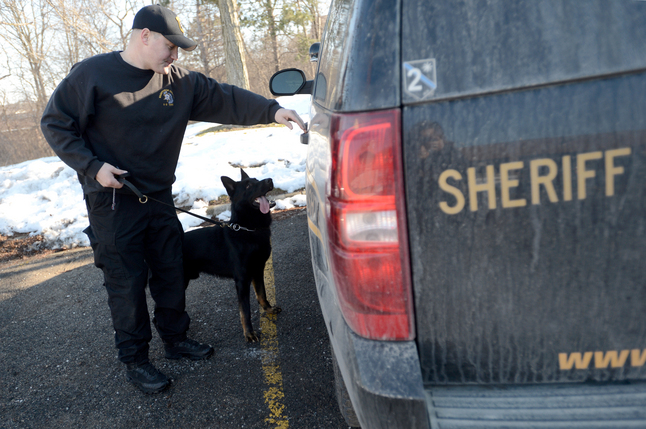 Melanie Maxwell I AnnArbor.com
Ziva had a nose on her.
In her five years of service with the Washtenaw County Sheriff's Office, the Belgian Malinois sniffed out drugs in the trunks of cars, firearms dropped by shooting suspects and, in one case, $1.9 million hidden in a motor home.
But when she was not working alongside Deputy Gerrod Visel, she was at home with his family, playing fetch with Visel's son and lying on the couch.
The Visels are now one family member short - as is the sheriff's office. Ziva had to be put down earlier this week due to kidney problems. The dog had been retired from service for the past several weeks due to the condition.
Now both families mourn.
"It's tough," Visel said. "My son had a lot of questions. He didn't want her to go. We're still in the mourning process right now."
Courtesy WCSO
A STAR IS BORN
Ziva was born in Ohio and bred in Romulus before coming to the sheriff's office. When she was 18-months-old, K-9 unit supervisor Sgt. Steve Armstrong had a chance to take a look at the dog.
"We tested and evaluated. We liked what we saw," said Armstrong, who also supervises the Washtenaw Metro K-9 Team.
Armstrong is on his third dog in 20 years, Bary, an 8-year-old German shepherd, a patrol and explosives dog.
Ziva, on the other hand, specialized in narcotics, as well as patrol, which includes such things as building searches, tracking and assisting officers on traffic stops.
"She was a star on both ends," Armstrong said. "She was a very, very nice dog for us."
THE 1.9 MILLION DOLLAR DOG
Ziva was involved in numerous heroic exploits as a police dog.
She could sniff out marijuana without even being led to it. Such was the case a few years ago when Visel was patrolling MacArthur Boulevard in Superior Township with another deputy. They were called to a residence on a noise complaint. As Visel and Ziva were standing on the sidewalk waiting while the other deputy spoke with residents on a porch, Ziva began tugging Visel toward a parked car.
"Ziva just drags him about 50 to 60 feet to a car in the parking lot," Armstrong said. "They found the registered owner who was not a resident and searched the vehicle and found … about a pound of marijuana."
Ziva also helped police locate a cache of suspected drug cash in a motor home.
About a year and a half ago, the sheriff's office was called out to help on a case with the Drug Enforcement Administration. Along with officers, Ziva searched a motor home on the side of Interstate 94 and found three suspicious areas, Armstrong said.
Police moved the motor home to a sheriff sub-station on Zeeb Road in order to search it more thoroughly. When they did, officers found $1.9 million in one of the areas Ziva had pointed out.
Ziva also helped save lives. When a man tried committing suicide, then changed his mind, the police dog helped find the man's unconscious body.
Police were dispatched to a wooded area near the Meijer in Pittsfield Township for the attempted suicide. The man had tried hanging himself with a belt, but changed his mind and was somehow not capable of freeing himself, Armstrong said.
The man called 911, but police were not immediately able to locate him. The phone line was still open, however.
"You could hear the movement, but no response from the end of the line," Armstrong said.
Visel and Ziva got out there along with the Pittsfield Township police and joined the search.
"We were searching for a few minutes, but then it got so thick that holding on to the leash was just getting in the way, so I cut her free,"Visel said. "After about a minute after cutting her free … she was barking about 30 yards in front of me," he said. "Dispatch could hear the dog barking on the open line of the guy who had called 911. He was there unconscious."
The man was subsequently transported to the hospital.
HEALTH PROBLEMS
About a year and a half ago, Ziva started having protein deficiencies. Her kidneys weren't functioning well. Despite buying the best kind of dog food, Ziva began to fail.
"There's only so much you can do," Visel said.
She was retired several weeks ago - but lasted longer than the vets said she would, Armstrong pointed out.
On Saturday, Ziva died.
Visel, who said he has always wanted to be a K-9 handler, is still in mourning for his partner and family member.
"When she was at home she was a pet, lying on the couch, playing ball with my boy," he said. "She knew when it was time to go to work. She was a housedog when she was home. She was a buddy to my 8-year-old boy."
Now into the picture comes Karn, a 2-year-old German shepherd who has only been with Visel and his family for eight days. Karn will continue to be trained and start duty probably sometime in mid-May.
"He is riding with me now," Visel said. "He's responding well."
John Counts covers cops and courts for AnnArbor.com. He can be reached at johncounts@annarbor.com or you can follow him on Twitter.