Posted on
Mon, Jul 22, 2013 : 5:56 a.m.
Sheriff's official: Waves, strong current carried teen who died in Lake Michigan away from shore
By AnnArbor.com Staff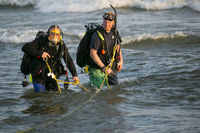 Muskegon Chronicle photo
A 15-year-old Ypsilanti teenager who died in Lake Michigan was carried away from shore by waves and a strong current, a Muskegon County sheriff's official told MLive Sunday night.
"I think they were trying to get to the sand bar. It runs parallel to the beach," Muskegon County Sheriff's Deputy Todd Dunham said of Raybeon Rochelle Jenkins, who went missing while swimming in Lake Michigan two days earlier.
Her 14-year-old sister had also been caught by the waves and current but told authorities she was pulled from the water by a woman. The girls had been swimming Pere Marquette Park with two cousins.
Dunham, who is head of the sheriff's marine division, said the divers found Jenkins' body around 4 p.m. Sunday on the south side of the pier roughly 10 feet below the Lake Michigan surface.
The day before, starting at 6 a.m., a team of divers from Muskegon, Norton Shores and Ottawa County made about 35 to 40 dives in effort to find the girl, Dunham said. The team searched for hours and made three more dives on Sunday, Jenkins said.
Jenkins, known to friends and family as Rochelle, had been spending the summer in west Michigan with relatives.