Updated:

Police: Man shoots ex-wife in Ann Arbor park, then kills himself

Posted on Sat, May 28, 2011 : 9:02 a.m.
Editor's note: This story has been updated with additional details.
A man shot his ex-wife then turned the gun on himself shortly after 1 a.m. today at Ann Arbor's Dolph Park Nature Area, Ann Arbor police said.
The man, a 37-year-old Monroe County resident is dead. His ex-wife, a 33-year-old Ann Arbor resident, is in stable condition at the University of Michigan Hospital and is expected to recover, said Sgt. Pat Hughes.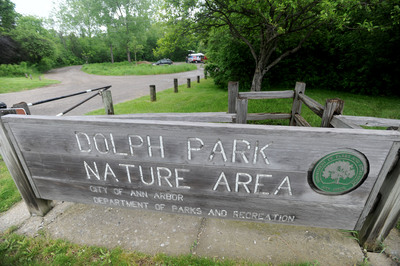 Angela J. Cesere | AnnArbor.com
The shooting occurred at the park on the west side of Ann Arbor after the man forced the woman at gunpoint to drive around for several hours, Hughes said.
The man, a former Ann Arbor resident, shot the woman in the neck and shoulder area in the car at the park, Hughes said. She was able to get out of the vehicle and get the attention of two people who were entering the park. She got in their car and they drove her out of the park and called 911.
She was taken by Huron Valley Ambulance to University of Michigan Hospital, where she had surgery.
Ann Arbor police went to the park and found the man with a gunshot wound to the head, Hughes said. He was also taken to University of Michigan Hospital, where he was pronounced dead.
Hughes said the two, who had divorced about a year ago, had agreed to meet Friday night in the Canton area. They met about 8 p.m. in the area of Canton Center Road and Michigan Avenue, but at some point the meeting turned violent. The man produced a handgun and forced the woman to drive around for several hours at gunpoint.
Eventually, they stopped at the Dolph Park Nature Area, where the shooting occurred.
Police have not released the name of the man or woman. They have three children, Hughes said.

View Dolph Park Nature Area in a larger map