Should Ann Arbor close fire stations? Weigh in at first of 5 meetings Tuesday night
Posted on Mon, Sep 17, 2012 : 7:15 p.m.
The first in a series of public input meetings on a proposal to reorganize the Ann Arbor Fire Department — and go from five to three stations — takes place Tuesday night.
Fire Chief Chuck Hubbard is expected to be on hand for the meeting, which lasts from 6-8 p.m. at Cobblestone Farm, 2781 Packard.
Residents who can't attend Tuesday's meeting will have four other chances to hear a similar presentation, ask questions and voice their opinions.
The schedule is as follows:
Sept. 19, 6-8 p.m., Ann Arbor Senior Center, 1320 Baldwin Ave.
Sept. 20, 6-8 p.m., Downtown Library, 343 S. Fifth Ave.
Sept. 25, 6-8 p.m., Traverwood Library, 3333 Traverwood Drive
Sept. 26, 6-8 p.m., CTN Studios, 2805 S. Industrial Highway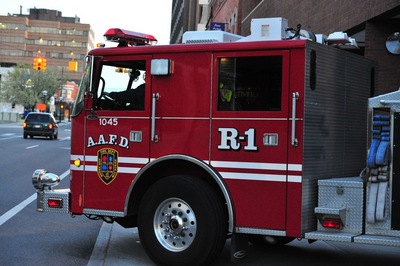 Ryan J. Stanton | AnnArbor.com
City Administrator
Steve Powers said in an interview last week
he still believes Hubbard's plan to consolidate the department's resources into three stations is worth considering.
"I think the proposal has merit or else I wouldn't have brought it forward," he said. "Council said we need more community input, so that's what we're continuing to do. And we sincerely are going out to listen. It's too early for me to say what the outcome might be because we do need to listen."
Under the plan Hubbard first presented in March, one station would be located on the north side of the city (Station 5 off Plymouth Road on Beal Avenue), one on the south side (Station 2 at Stadium and Packard) and one downtown (Station 1 at Fifth Avenue and Huron).
That plan requires reopening Station 2, which was closed several years ago, and closing Station 3 at 2130 Jackson Ave., Station 4 at 2415 Huron Parkway, and Station 6 at 1881 Briarwood Circle.
Hubbard points out the fire department is required to have at least four firefighters on scene before anyone can enter a burning building. The city's current response model includes three firefighters at each station, which means two trucks have to be on scene before firefighters can enter a building.
Hubbard said his plan would allow the fire department to better meet national fire response standards because four firefighters would be on duty at each of the three stations.