Posted on
Fri, Dec 24, 2010 : 6:01 a.m.
Dominick's bar owner continues fight against closure of Monroe Street block in Ann Arbor
By Ryan J. Stanton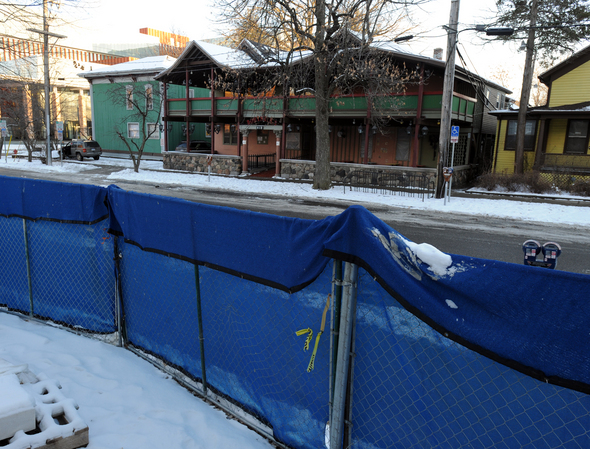 Lon Horwedel | AnnArbor.com
Richard DeVarti isn't going down without a fight.
The owner of the popular Dominick's bar and restaurant on the University of Michigan campus has submitted petitions to the city containing more than 1,700 signatures from those opposed to the closure of a one-block portion of Monroe Street near his business.
DeVarti says he has been collecting the signatures since April 2009 as part of a fight that's now two years running.
"It is my understanding that the University of Michigan has filed with the city Planning Commission, requesting approval for a permanent vacation of the one block of Monroe St. between South State St. and Oakland Ave.," DeVarti wrote in a Dec. 18 letter to Ann Arbor officials, passing along his petition signatures.
"It would be nice if all these people could be included on a list of who will be notified if and when there is to be a public hearing scheduled regarding this matter," he said.
The future of Monroe Street remains uncertain at this point as city officials continue to negotiate with U-M, which wants to close the one-block portion near the U-M Law Quad to create a new pedestrian mall. Before any permanent decisions are made, Ann Arborites will get a taste of what it's like to have that portion of the street closed for the next six months.
Starting Monday, the portion of Monroe between State and Oakland will be closed to traffic until July 15 as part of underground utilities work and building construction related to the U-M Law School building project, city officials said.
City officials have announced a temporary traffic control plan. Traffic from Monroe westbound will be routed south on Oakland to west on Hill Street to State Street. Traffic heading toward eastbound Monroe will be routed down State Street to Hill Street to Oakland back to Monroe.
Pedestrian access will be partially maintained up to Hutchins Hall, and a sidewalk detour will be put in place directing pedestrians north onto the campus sidewalk system.
U-M officials say the permanent closure of that stretch would facilitate movement of students and faculty between the 75-year-old Law Quad and a new 100,000-square-foot addition that is being built across Monroe Street on what used to be a surface parking lot.
U-M would put up barriers to vehicles at each end of the block, although access would be preserved for emergency vehicles.
City Council Member Tony Derezinski, who also serves on the Planning Commission, said the law school building project is a great addition to the law complex. He said city officials are in talks with U-M about concerns with regard to closing the street.
"We're working it out right now between the legal departments of the university and the city to see if some sort of an agreement can come forth," he said. "And it has been looked at for about four or five months now. The construction of the buildings have gone ahead with the hope, I suspect, that an agreement will be reached on the vacation in some form."
U-M officials have said the university is willing to mitigate the loss of the on-street parking revenue, which goes to the Ann Arbor Downtown Development Authority. Consultants working with the university do not believe traffic would be substantially impacted, though.
DeVarti said a permanent closure on Monroe Street would deny any vehicles an alternate route when traffic is too heavy on State Street. He said it also would worsen existing problems at the corner of Hill and Oakland, as well as at Hill and Tappan.
He said it's frequently difficult and time-consuming to make a left turn onto or cross over Hill Street from either Tappan or Oakland.

View Monroe Street Closure in a larger map
"This situation would only worsen," he said. "The proposed pedestrian mall will not be an improvement for the community at large."
DeVarti argues a well-marked pedestrian crosswalk, like one on North University near the bus stops and Natural History Museum, would work just fine. A pedestrian-controlled traffic light is another good option, he said, but vacation of Monroe Street is impractical.
Wendy Rampson, the city's planning manager, said because Monroe Street is a platted right-of-way, it requires Planning Commission and City Council approval to vacate it.
"Planning Commission will make a recommendation to City Council," she said. "At this point, there is no schedule. It really just depends on when the university is ready to respond on the design questions that came up as a part of the review."
As an alternative, Derezinski said the idea of tunnels underneath the street — to connect the buildings on either side of Monroe like the tunnels that connect the present law school library to Hutchins Hall — has been discussed, but doesn't seem feasible.
"They're very extensive and well maintained, but the problem is there's just a lot of stuff underground now and difference in levels and grade levels that make that very difficult," he said. "There also has been talk of having an arch over the street. Again, that poses a lot of problems as well. They were looked at by the university planners as an alternative, but they came to the conclusion that vacation of Monroe Street would be the best bet."
Ryan J. Stanton covers government and politics for AnnArbor.com. Reach him at ryanstanton@annarbor.com or 734-623-2529.