Posted on
Thu, Sep 8, 2011 : 3:30 p.m.
Skunk with distemper raises warnings for pet owners in Ann Arbor's Water Hill neighborhood
By Paula Gardner
Ann Arbor's 'Water Hill' neighborhood is being warned to make sure dogs are vaccinated following the capture of a critically ill skunk over Labor Day weekend.
The skunk was spotted on Spring Street near Cherry, "circling and circling, wandering back and forth across the street, falling over and tremoring," according to a neighborhood email.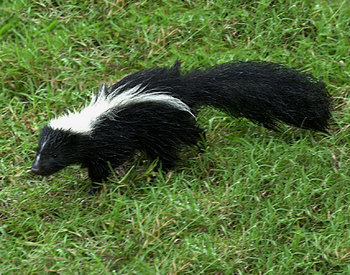 From the Grand Rapids Press
Wildlife rescue specialists from the
Humane Society of Huron Valley
captured the skunk, which is believed to have suffered from distemper. It was euthanized.
However, the capture is a reminder for residents with dogs that they should keep their vaccinations current, said Tanya Hilgendorf, executive director of the humane society.
The disease is highly contagious, Hilgendorf said, "and it causes acute illness and death."
It can be passed through both direct contact and through contaminated things — such as fecal matter — left in the environment.
The condition affects the respiratory tract, Hilgendorf said, then advances through other systems in the body. By the time neurological signs are present — such as disorientation or showing no fear of humans — the disease is advanced.
While common among wild animals in Michigan, "there is no treatment for wildlife with distemper," Hilgendorf added.
The skunk's condition may have raised fears that it suffered from rabies, a situation that Hilgendorf said was unlikely.
The county's humane society will pick up hundreds of animals suffering from distemper in a typical year, Hilgendorf said. That compares with an average of 100 cases of rabies found across the state during that timeframe.
Meanwhile, cats would not be affected by the same strain of the disease, Hilgendorf said.