Four skunks with rabies identified in Ann Arbor this year
Posted on Thu, May 10, 2012 : 5:11 p.m.
Editor's note: The story has been edited to reflect that rabid skunks have not been exhibiting aggressive behavior.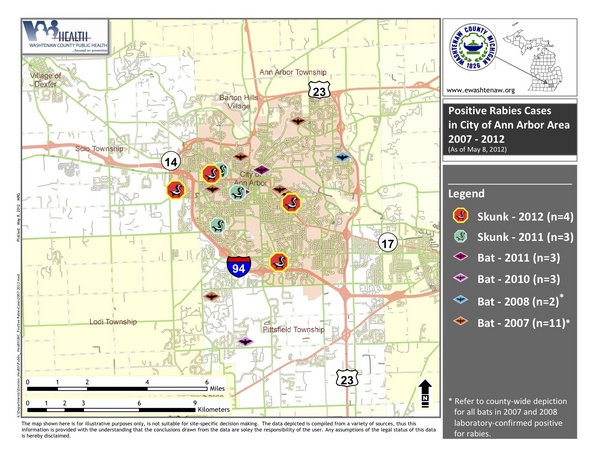 Courtesy of Washtenaw County Public Health

Since the first incident of a rabid skunk in 2012, three more skunks have tested positive for rabies within Ann Arbor city limits - bringing the total to seven since last fall.

Prior to 2011, the last time Washtenaw County had skunks that tested positive for the disease was in 2005.

Click here to see a larger version of the map above.

In the past two weeks, there were encounters with rabid skunks in south Ann Arbor near the intersection of Eisenhower Parkway and Packard Street and in west Ann Arbor in the Lakeview subdivision off of Jackson Road.

The Washtenaw County Public Health Department has issued an alert today to remind pet owners to have their animals routinely vaccinated for rabies and to avoid contact with wildlife exhibiting strange behavior.

"We've been hearing that they've been exhibiting strange behavior," said Susan Ringler-Cerniglia, public information officer for the health department, explaining it's unusual for skunks to be roaming outside in daylight hours.

In one recent instance, Ringler-Cerniglia said a person had been approached by a rabid skunk and was licked.

The rabies virus exists in an animal's saliva, and is transmitted from one animal to another through bites or close contact.

In each of the interactions skunks with rabies had with pets this year, the animals got into a "scuffle," Ringler-Cerniglia said.

Afterward, the skunks ended up dead or injured and were sent to the health department for testing. All of the dogs were up to date with their shots.

Aggressive behavior on behalf of the skunks has yet to be reported, Ringler-Cerniglia said.

There are no known human cases of rabies. The pets that were bitten received booster shots.

"Because we know it's in the skunk population it could be transmitted to other populations that haven't been vaccinated -- like raccoons and stray cats," Ringler-Cerniglia said. "We don't have methods of controlling the skunk population for rabies."

Pets that haven't been vaccinated and come into contact with rabid animals cannot be treated, according to the health department.

In humans, the symptoms of rabies may not be initially apparent, including fever, headache, fatigue or anxiety. If the virus is allowed to progress, symptoms include paralysis, seizure and coma leading to death.

For more information on rabies, visit the Washtenaw County Public Health's fact sheet or the Centers for Disease Control and Prevention.

Report animal bites to the health department by calling (734) 544-6700 during business hours or (734) 891-4327. Staff will determine if vaccinations or other further actions are needed.