Posted on
Tue, Jul 2, 2013 : 12:20 p.m.
Skydive Tecumseh says its pilot is not under investigation after close call with Spirit jet
By Amy Biolchini
A Tecumseh-based skydiving company says its pilot is not under investigation by the Federal Aviation Administration after a close call with Texas-bound Spirit Airlines Flight 313 Sunday evening at about 14,000 feet.
"(The FAA) called us on Monday to ask my pilot exactly when it happened," said Skydive Tecumseh owner Franz Gerschwiler. "They made it clear to the pilot that he was not under investigation."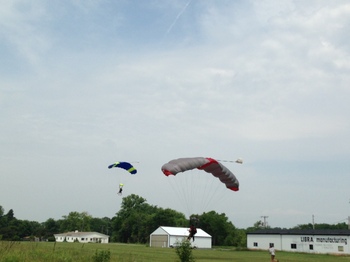 Courtesy of Katie Cunningham
The FAA is looking in to reports that the Spirit Airlines jet responded to an on-board traffic alert about 20 miles southwest of Ann Arbor in the
Tecumseh
area after taking off from Detroit Metropolitan Airport.
"We look at everything involved in flight, which includes the planes, the pilots, the people involved, the equipment involved. Was there adequate training? Were the rules of flight followed? Were the planes built and maintained in accordance with the Federal Aviation Regulations?" FAA spokeswoman Elizabeth Cory said in an emailed statement.
Gerschwiler said his pilot had reached the end of its ascent at 14,000 feet in a Quest Kodiak plane with a group of skydivers on board about 8:30 p.m. Sunday. The plane is new to the company's fleet and can hold up to 14 jumpers.
Gerschwiler said the pilot was in contact with air traffic control and had a visual on the Spirit jet, an Airbus 319 jetliner that departed Detroit Metropolitan Airport with 126 passengers and a crew of five bound for Dallas-Fort Worth International Airport.
"(My pilot) was aware that the aircraft was there," Gerschwiler said. "It didn't get to the point where he was concerned and that he couldn't maneuver and get out of the way."
Air traffic controllers had notified the Spirit pilot about 8:22 p.m. that the Skydive Tecumseh plane was climbing just south of the jet, according to the FAA.
About a minute later, the Spirit jet's automated Terminal Collision Avoidance System was activated and the pilot was forced to begin a swift 1,600-foot descent from an altitude of 14,400 feet to 12,800 feet, according to the FAA.
Passengers screamed as their jet quickly dropped elevation, causing luggage bins to spill open and flight attendants to bump their heads, the Associated Press reported.
"(The spirit jet) was coming up towards us, and then it dove because we were already up there," Gerschwiler said.
Gerschwiler said his pilot did not need to take sudden evasive action to avoid the jet, but slightly corrected his course and proceeded with the sky dive Sunday evening once the Spirit plane was out of the airspace.
"Some kind of communication issue occurred," Gerschwiler said, noting that his pilot followed all the protocols Sunday evening. "There's always communication between (air traffic control) to let them know there's parachuting."
At the closest point, the two planes were 1.6 miles apart horizontally and about 400 feet vertically, according to the FAA.
The Spirit jet continued to Dallas-Fort Worth without further incident.
Skydive Tecumseh typically does about 30 skydive flights on Saturdays and Sundays in the airspace around the Meyers-Diver's Airport at 9305 Tecumseh-Clinton Highway in Tecumseh, Gerschwiler said.
Each flight typically carries about 12 passengers and lasts from 20 to 25 minutes, Gerschwiler said. The company has two planes staffed by two pilots who take turns manning flights, Gerschwiler said.
Gerschwiler said one of his planes was handling all the flights Sunday. He did not know how many pilots were working Sunday or how many passengers were on the Kodiak plane at the time of the incident with the Spirit jet.
"Once in a while the air traffic control has to send jets through our airspace," Gerschwiler said, noting that the company has never had a close call with a jet before.
Skydive Tecumseh is a 50-year-old company, of which Gerschwiler has been owner for the past six years.

View Meyers-Diver's Airport, Tecumseh, MI in a larger map
Amy Biolchini covers Washtenaw County, health and environmental issues for AnnArbor.com. Reach her at (734) 623-2552, amybiolchini@annarbor.com or on Twitter.