Posted on
Wed, Apr 13, 2011 : 5:55 a.m.
Skyline High School officials discuss adding security cameras, but critics say equipment is unnecessary
By Kyle Feldscher
Officials at Skyline High School are in the beginning stages of discussing a proposal to have security cameras installed in the school, a move critics say is unnecessary.
Ann Arbor schools spokesperson Liz Margolis said Skyline principal Sulura Jackson recently began talking with parents and students about the possibility of installing security cameras in the commons areas of the school.
Margolis said the proposal has no estimated price as of yet.
"There's no funding set aside for this, it hasn't come to administration at this point," she said. "It would have to go to the board, if it got to that stage and there's funding found and it's determined there's a need. But right now, (Jackson) is at the stage where she's letting parents lead the discussion, figuring out how many parents really want this and how many parents don't want this."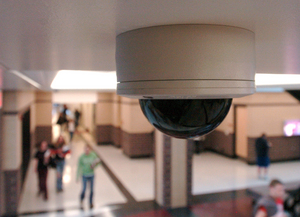 File photo | AnnArbor.com
Jackson met with parents and students at a
Parent Teacher Support Organization
meeting Monday to speak about the proposal.
Margolis said the hallways with classrooms at Skyline were designed to have an open view so security cameras would not be needed in those areas. However, some parents have voiced concerns about cars in the parking lot being vandalized and thefts happening after school in areas other than the classroom areas, or when community assistants are not in the school, Margolis said.
Cameras would be placed only in common areas and not in restrooms, classrooms and locker rooms, Margolis said.
Michael Steinberg, legal director of the American Civil Liberties Union of Michigan who has twin daughters who attend Skyline, said he is organizing a campaign against the installation of cameras.
He said schools should be teaching students the value of privacy and freedom and wanted to "make sure Sky High doesn't become Spy High."
"Schools are supposed to use their precious resources to teach students to appreciate the freedom and privacy we have in this country, not to create a police state-like atmosphere," Steinberg said.
Despite the opposition from the ACLU and concerned parents and students, the leader of the district's Parent Teacher Organization Council hasn't heard many complaints.
Martine Perreault, chairperson of the Parent Teacher Organization Council, said she has talked to only one parent about the Skyline proposal for security cameras and hasn't gotten a sense of whether parents are for or against it.
"Nobody has been knocking down my door protesting about it," she said.
The issue of funding might be the biggest hurdle to any installation of security cameras in the school.
Margolis said sinking fund dollars are under consideration for the project, but she isn't certain the proposal would qualify. She said she wasn't sure how much it cost to install cameras at Pioneer High School and Huron High School. A sinking fund is a type of millage that allows the district to pay for certain construction projects under state law.
She said Jackson has proposed hiring an extra community assistant to patrol the building after school hours, but there's simply no money for it.
"That's not going to be allowed in budgeting and she's already been told that's not going to happen," Margolis said, adding that volunteers would not be allowed to do that type of work either.
Margolis said the majority of incidents parents have become concerned about are thefts after school when there are no community assistants to watch over the building. She said there's been no spike in theft rates recently, something corroborated by Steinberg's findings in a Freedom of Information Act request.
Steinberg said Skyline has had fewer than 40 thefts this year, according to documents he obtained from the district. He said there were approximately 530 thefts at Pioneer the year before security cameras were installed in that school.
"We, as a school district, have to come up with better ways to address problems than turning schoolhouses into jailhouses," he said.
Kyle Feldscher covers K-12 education for AnnArbor.com. He can be reached at kylefeldscher@annarbor.com or you can follow him on Twitter.