Posted on
Tue, Nov 22, 2011 : 5:57 a.m.
Early Thanksgiving meal lets Ann Arbor special education students learn about more than the holiday
By Janet Miller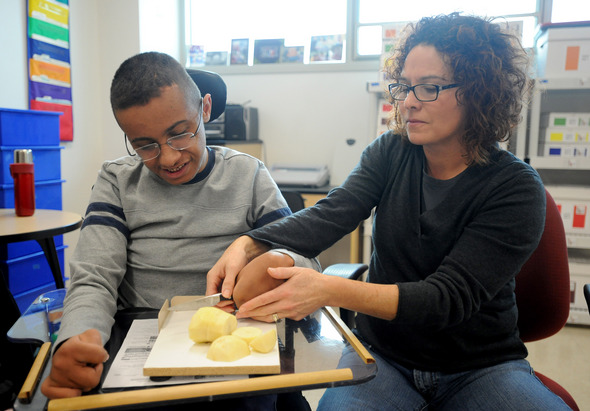 Angela J. Cesere | AnnArbor.com
For
Kayna Edwards
' Skyline High School class, Thanksgiving is about more than turkey, sweet potatoes and green beans.
It's about reading a recipe, figuring out how to peel a potato and practicing measuring sour cream. And it's about sharing.
Angela J. Cesere | AnnArbor.com
Edwards' class of severely and multiply impaired students is hosting the third annual Fall Feast on Tuesday, bringing together nearly 100 special education students from Skyline, Pioneer and Huron high schools to eat turkey and trimmings, break bread and share. Each of Edwards' seven students brought in a family recipe and spent Monday and Tuesday making the feast.
Student Jared Whitfield, overseeing the mashed potatoes and gravy, lights up when the feast is mentioned. Jared said the day is about "turkey and stuffing and hanging out." Still, the cooking part is work. "Cooking is no fun," he said. "I like my mom to cook."
The event has grown over the three years from two turkeys and 50 guests the first year to five 20-pound turkeys and 100 guests, Edwards said.
The counters of her classroom kitchen were overflowing with food: 30 pounds of white potatoes, eight pounds of butter and two 6-pound cans of green beans.
That means the grocery list has also grown. Edwards has always donated two turkeys to the feast along with some groceries, covering the rest of the costs with her classroom budget. But feeding close to 100 people is expensive, and this year planners appealed to other teachers and area businesses, winning $75 in groceries and other donations. Some of the markets, she said, said they would be willing to donate turkeys next year, Edwards said.
The Fall Feast helps to teach students about menu planning, adapting recipes, grocery shopping and cooking, just the kind of life skills she teaches year-round in her class.
"We went shopping in the community, exchanging money in a real-life context," Edwards said. And it's about learning how to use some of the adaptive kitchen equipment, such as cutting boards with two nails positioned in the center, anchoring the food. "You only need one hand to cut something," Edwards said.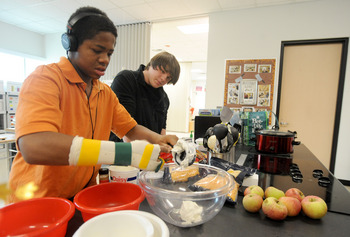 Angela J. Cesere | AnnArbor.com
And the students learned how to use the Internet to adapt recipes for a crowd of guests, going to http://allrecipes.com/, said Tina Trombley, teachers aide. The Fall Feast also teaches students how to write an invitation. And this year, because students made a video invitation that was sent out electronically, they learned about writing, making public speeches and memorizing their lines, she said.
The feast is great fun for student James Wilson. He wants to be a chef and working in the kitchen is a way to gain experience.
He was overseeing the cheesy potatoes, carefully measuring out six cups of sour cream and mixing in 31 cups of shredded hash browns. The cream of chicken soup he added to the mix smelled good, he said.
James also learned what a dash meant when the recipe called for a dash of pepper. The pepper, he said, smelled not-so good.