Posted on
Mon, Oct 1, 2012 : 5:37 p.m.
Ann Arbor Skyline, Huron high schools collect 169 pounds of food at football game
By Danielle Arndt
Football and food are common companions. But at Friday's Ann Arbor Huron versus Skyline football game, the emphasis was on donating not consuming.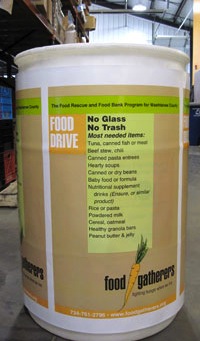 Courtesy of Food Gatherers
The two Ann Arbor high school football programs collected a combined 169 pounds of nonperishable dry and canned goods to give to
Food Gatherers
, an agency that provides food to needy families.
The Skyline Football Parents Club organized the last-minute food drive war between the competing teams. It was Skyline's homecoming game, and the Eagles staved off a second-half comeback by the Huron River Rats to win 41-34.
The Skyline Parents Club attempted to organize a similar food drive last year but wasn't able to pull it off in time, said Mary Schlitt, director of development and marketing for Food Gatherers.
"We thought this would be a great opportunity for both local schools to get involved with a local organization and for the students to give back," Michelle Traster, vice president of the Skyline Football Parents Club, said in an email.
Schlitt said the two high schools' 169 pounds of food was a "fair amount" given the time frame the football programs were working within. Skyline's parents hope this is just the first of an annual homecoming food drive.
Skyline High School collected 120 pounds of food, while Huron collected 49 pounds of food. Together, the schools filled a single large barrel.
According to its website, Food Gatherers distributed more than 5 million pounds of food throughout Washtenaw County last year. To donate or to organize a food drive, contact Food Gatherers at (734) 761-2796 or email info@foodgatherers.org.
Danielle Arndt covers K-12 education for AnnArbor.com. Follow her on Twitter @DanielleArndt or email her at daniellearndt@annarbor.com.