Posted on
Mon, Dec 3, 2012 : 5:59 a.m.
The K-pop Star among us: Skyline High School's Diana Chen reflects on Top-18 finish in Korean singing competition
By Danielle Arndt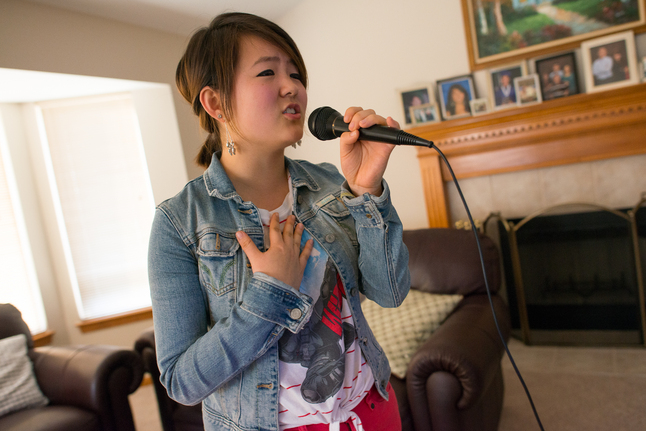 Courtney Sacco | AnnArbor.com
Ann Arbor's
Diana Chen
was 11 years old when she realized she wanted to be a singer. But unlike other girls her age, Chen's pop-star aspirations led overseas.
Chen, an Ann Arbor-born Chinese American, dreamed of becoming a Korean singing sensation. And just five years later, she would get her opportunity — as a contestant on a TV show that is, essentially, Korea's version of "American Idol."
When people think of Korean pop music today, two words come to mind: "Gangnam Style."
The eccentric South Korean music artist Psy, who revolutionized the horse trot into a coveted, international dance move, has become the face many Americans associate with the K-pop movement. His show-stopping performance at the American Music Awards with MC Hammer was iconic and symbolic of the music genre's growing appeal.
And just last week, Psy's "Gangnam Style" music video surpassed Justin Bieber's "Baby" as the most-watched YouTube video ever.
But Chen, who spent three months living in Seoul and training with Korea's top music executives as a high school junior, laughed at the generalization that "Gangnam Style" is the epitome of K-pop.
"It's way goofier," she said of Psy's monster hit. "Most Korean people aren't like that. They're very conservative. … (Psy) is really kind of crazy. But he was the first Korean to go viral."
Will the Korean pop craze last? Chen doesn't know, but she was thrilled to be part of its growth spurt into the mainstream music world.
Chen, a senior this fall at Skyline High School, was a top-18 contestant on last season's "K-pop Star," a TV singing competition similar to "American Idol" or "The Voice."
She was one of just 30 non-Korean competitors chosen from thousands of teens auditioning around the globe for the first-ever season of "K-pop Star." And Chen outstayed them all to be the last international contestant eliminated.
The K-pop World
The 17-year-old from Ann Arbor always had an affinity for Korean culture, despite being the daughter of two Chinese immigrants. Chen's parents moved to the U.S. in the 1980s to obtain their graduate degrees. They never left.
Chen said Korean TV shows were popular in China, so she and her brother grew up watching Korean TV dramas in Chinese with their parents. The dramas sparked Chen's interest in Korean culture, fashion and music.
She attended her first singing audition at age 14. She had no formal vocal training prior to competing on "K-pop Star" from November 2011 through February 2012.
"I basically taught myself," Chen said.
She had received some dance training prior to the show, however. Chen took lessons in traditional Chinese dance when she was young and was on the Skyline High School dance team during her freshman and sophomore years.
At 14, she traveled to Canada to audition for JYP Entertainment, one of Korea's three top-grossing record labels and entertainment corporations. The label conducts regular casting calls around the world to recruit teens of Korean and Asian descent to join its trainee system, in which the trainees take part in an intense boot-camp to transform them into singing and dancing superstars. Thousands vie for the opportunity.
According to an article in Asian Entertainment Universe, at a nationwide JYP audition in Korea in 2008, 12,000 K-pop hopefuls participated, 32 were passed along to the finals, and four were selected as trainees.
The 2008 audition was just the second national casting call the company had conducted, the article said. The public auditions only have continued to grow in number and popularity as the K-pop movement has gathered speed and intrigue on an international level.
YG Entertainment, the label behind Psy's "Gangnam Style," and SM Entertainment, which boasts the popular nine-member group Girls' Generation, both host similar auditions in Asia and the U.S. and also have trainee boot camps.
Related reading/watching:

The trainings last a long time — anywhere from two to seven years to become a versatile entertainer — and not every trainee becomes a famous K-pop singer or group member, according to Asian Entertainment.
In 2011, YG, SM and JYP launched a new method of discovering future talent — "K-pop Star," which is currently taping its second season.
Auditions, challenges and chasing dreams
Chen learned about "K-pop Star" on a website she described as the Korean equivalent of People.com.
The audition process started with an online application. Chen said she emailed them about why she wanted to be a K-pop star and submitted a link to her YouTube page.
Her application was accepted. And two months later, Chen and about 3,000 others were called to an audition in New York.
"I had to beg my dad to take me there and he said he would, only if this was my last audition. So there was a lot of pressure for me to sing my best and to make it," Chen said.
She said the auditions lasted two days. On the first day, the music executives didn't dole out any tickets to Seoul.
Chen's audition took place on Day 2. She was awarded the first official plane ticket to Korea and guaranteed at least one more chance to sing for the three "K-pop Star" judges: Yang Hyun Suk (YG Entertainment), BoA (SM Entertainment) and Park Jin Young (JYP Entertainment).
"I was shocked. I couldn't believe it," Chen said. "I still don't think I've fully comprehended how far I made it. … It still hasn't sunk in."
Three hundred contestants made it through to the first round of the show, but only 30 were chosen from outside of Korea.
The international singers were told at first to be prepared for the Korean contestants to be "mean and rude" to them. However, Chen said she never actually saw this come to light.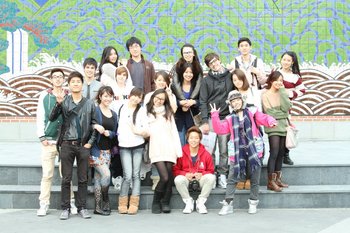 Courtesy of Facebook
Chen arrived in Seoul on Nov. 4, 2011. She said after three days of training and practicing for 10-plus hours a day, there was another audition, in which the judges cut the group of 300 singers down to just 75.
"I was so scared," Chen said. "That was the most nervous I have been in my entire life. … I didn't want to have just arrived in Korea, only to turn around and come right back home."
Similar to "American Idol," the singers needed "yes" votes from the majority of the judges to advance. Chen had received a "yes" from SM Entertainment and a "no" from JYP. She said BoA paused a long time to ponder before giving her answer.
"It was the longest two minutes of my life," she said. "I was so confident I would be getting a yes from JYP since he gave me a yes in New York. So I was a little shaken by it, but it really helped me to put things in perspective."
Chen does not speak Korean, but language lessons are a huge part of the training K-pop star hopefuls receive. She said Korean tutors work with the singers for a couple of hours three days per week.
If Chen had advanced to the Top 10, she had planned to sing a song in Korean.
"My accent isn't as strong as some," she said. "But it was something I really wanted to do to show that I could and that despite the language barrier and me being a Chinese-American, I respected and appreciated the culture."
The show began filming live once the Top 10 were chosen.
The singers were narrowed down from 75 to 50, then to 36, then to 18, then to 10. When the group became 18, Chen was the only remaining international performer in the competition.
The spotlight
On "K-pop Star," the contestants compete on their own, and only one vocalist wins. However, for the various auditions leading up to the live show and the top-10 selection, the judges tested the contestants by having them perform duets and in small groups.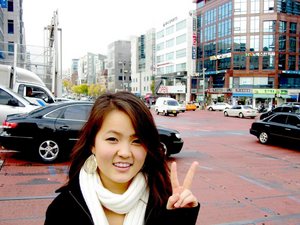 Chen said for her, given her self-taught singer status, performing in a group was one of the most challenging and fun aspects of the show.
Chen performed solo twice, as part of an all-girl group twice and as part of a duo with a male rapper once.
The show began airing in December and by the end of her tenure on the show, Chen said she was occasionally recognized on the streets of Seoul. While Chen didn't mind the limited fame, the TV cameras could be overwhelming, Chen said.
"There are 7 jillion cameramen following you around all the time."
After singing "Price Tag" by Jessie J, featuring B.o.B, with her duet partner, Chen was incredibly upset, disappointed and worried that she was going home.
"(My partner) forgot his lyrics. … I remember sitting on the floor and crying and my friend from France came over and was holding me and consoling me and all these cameras were just swarming around us," Chen said. "(My friend) just kept saying, 'Please stop filming, please stop filming.'"
The pressure, the lifestyle and especially the cultural differences got to Chen in January.
Chen, whose petite frame stands at about 5 feet tall, said she was asked to diet by Hyun Suk.
"He asked a couple of us to," she said with a smile. "I'm chubby by Korean standards. It was quite the culture shock."
She decided to come back to Ann Arbor to visit her parents, brother and friends.
"I hadn't seen my family in two months. So I wanted to come home," she said. "I had so much stress, and the language barrier was really hard."
And being the only international contestant was lonely.
"It was hard. You go from being in a house with six other girls and singing and dancing with them and spending every waking minute of the day together. … I had become so close with a lot of the international girls that, when they left, I remember talking to my manager about how I wanted to go home," Chen said.
When she returned from visiting her family in Ann Arbor, Chen said the stress was almost magnified. While at home, she had to prepare for the top-10 audition on her own, which included developing her own choreography.
"The vocal instructors as well as the choreographers were awesome, and listened and helped me when I came back to film. … I knew my choreography wasn't the greatest."
Chen said JYP was the Simon Cowell of "K-pop Star" and could be tough on the contestants at times. He told Chen there was "nothing special" about her, that her singing was good, her dancing was good, but she wasn't a standout in any one area.
Chen said at first she was devastated by JYP's analysis of her talent, but she used it to motivate her.
"I wanted to prove to him that I was better than just good at everything. And I felt like in the end I did that when he recruited me for his team. … I thought 'yes!'" she said.
Chen said one of the reasons she believes she made it so far in the competition was her drive and personality. She "wanted it so bad" and put her heart into training.
"One thing I learned is that even if you think you're good, there is always someone out there better than you. You have to work hard and never stop striving for the best," she said. "You can't let people tell you you can't. Because honestly, following your dreams is the most important thing. Dreams do come true."
What's next
When Chen was cut from "K-pop Star" after her top-10 audition, she said at first she was relieved, and happy and excited to get back to her normal life. But once she was home, she said it was almost like depression set in.
"I was regretting that I didn't push just 10 percent harder to reach Top 10," Chen said. "But then I realized I wasn't so much sad because I wished I had made it further in the show. I was sad because I missed spending every single day singing and dancing and doing what I love."
The high school senior said she would love to audition for other U.S. singing competitions. However, she said her parents haven't always been supportive of her star aspirations.
Chen explained academics are important to her family and at first, her dad had concerns about her missing school. And her mom didn't like the idea of her living in a foreign country by herself, she said.
But their pride in their daughter won out in the end.
"When I started doing really well (in the competition) I think they could see how happy singing made me, and they were proud of how seriously I was taking it and how hard I worked to make it," Chen said.
Chen also values academics.
"I want to do auditions and to travel and to try to make it, but I also want to find that balance," she said.
Chen is a stellar student in mostly Advanced Placement courses at Skyline High School. She also played girls lacrosse her freshman and sophomore years and was elected to Homecoming Court this year.
After returning from Korea, Chen started an after-school talent club for people who love to sing and dance called "Voice 'N Motion." She said the club is meant to be a gathering place for students to hang out, learn from each other and to share a love of music and entertainment.
Also for the first time this fall, the now international star has tried out for the local FutureStars 2013 talent competition, which takes place at Pioneer High School in January and is open to any high school student in the Ann Arbor district.
Chen currently is finishing her college applications and hopes to attend either the University of Michigan or Northwestern to study international business. When asked why she didn't major in music or music business, she replied: "Because music is my passion and that would take all the fun out of it."
Watch the video documentary below that Diana made of her "K-pop Star" journey.
Danielle Arndt covers K-12 education for AnnArbor.com. Follow her on Twitter @DanielleArndt or email her at daniellearndt@annarbor.com.