Posted on
Sun, Apr 24, 2011 : 5:59 a.m.
Child labor, orangutans and Thin Mints: Two renegade Girl Scouts raise questions about palm oil used in popular cookies
By Juliana Keeping
Two renegade Girl Scouts are raising questions about whether iconic treats like Thin Mints are linked via palm oil to slave and child labor in Southeast Asia.
Rhiannon Tomtishen and Madison Vorva, who are sophomores at Greenhills School in Ann Arbor, stopped selling Girl Scout cookies in 2007 after they began working on a public service project to bring attention to the plight of endangered orangutans in Borneo. The animals live in the rainforests that the cultivation of palm oil destroys.
Vorva says the U.S. Department of Labor's List of Goods Produced by Child Labor or Forced Labor in 2010 linked palm oil produced in Indonesia with child labor, and within Malaysia, with forced labor. The majority of the world's palm oil comes from these countries.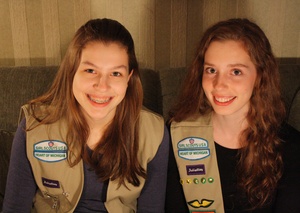 "Kids should not have to choose between selling cookies and getting to camp or choosing rainforest deforestation and orangutan extinction. There are links to slave labor as well," Vorva said. "There should be no human rights abuses occurring in Girl Scout cookies either."
The use of palm oil in the majority of cookie recipes is out of sync with the organization's mission to make the world a better place, Tomtishen said.
Employing lessons about confidence and standing up for yourself learned at troop meetings growing up, the two 15-year-olds have vowed to carry on the fight against palm oil until Girl Scouts of the USA makes a change.
The pair won a Girl Scout Bronze Award for their work in 2007, but the campaign against palm oil has continued since then. It's taken on a more mature, insistent and darker tone, buoyed by the new partnership with the environmental activism group Rainforest Action Network.
According to the Rainforest Action Network, Kellog's owns one of two Girl Scout Cookie bakers, Little Brownie Bakers. Kellog's sources palm oil from Cargill, an agribusiness giant the environmental organization links to human rights violations and deforestation, allegations the organization denies.
While the Rainforest Action Network's main beef is with Cargill, the two local Scouts are working to change Girl Scouts of the USA.
They are pushing for a second meeting with Girl Scouts of the USA. They had a brief conference call with a merchandising executive in 2008 but didn't convince the organization to stop using palm oil in cookies.
Still, their campaign has picked up steam.
The Rainforest Action Network set up an online form that makes it easy for those interested to send a letter to Girl Scouts of the USA CEO Kathy Cloninger to pressure the organization to stop using palm oil.
RAN also helped Tomtishen and Vorva make a renegade merit badge available to Girl Scouts across the nation with instructions on how to win the badge available online. It's not endorsed by Girl Scouts of the USA, but can be worn on the back of a badge as a fun patch, Tomtishen said.
According to Girl Scouts of the USA, the Girl Scout Cookie Program generates $700 million a year. Cookie goals support local troops activities for the year, like community service and leadership projects and summer camp. It teaches lessons like managing money and business ethics.
Via a spokesperson, Girl Scouts of the USA says its hands are tied. In 2006, the U.S. Food and Drug Administration began requiring unhealthy trans fats to be listed on the Nutrition Facts labels on manufactured food products.
Two official Girl Scouts bakers worked to make its cookies healthier in light of the changes, said Michelle Tomkins, spokesperson for the organization.
"In order to rid cookies of trans fats, you had to find another alternative," Tomkins said.
That alternative is palm oil.
Tomkins said the girls' efforts are fantastic, that they embody everything the organization is about.
But, two bakers the organization uses have no plans to change the recipe.
"That could change," Tompkins said. "We have little say if not no say in the recipes used by the bakers."
Little Brownie Bakers and ABC Bakers make the cookies.
"While palm oil is a small percentage of our total ingredients, it is used in certain cookies to help ensure shelf life and quality. It also serves as a healthful alternative to trans-fats," said Kris Charles, a Little Brownie Bakers spokesperson, via e-mail.
According to Charles, Little Brownie Bakers purchases GreenPalm certificates meant to offset environmental impacts cultivation practices by funding growers' transition to sustainable palm oil.
But there is no way of knowing if the oil the baker purchases is sustainably grown.
"Little Brownie Bakers intends to purchase sustainable palm oil once a segregated palm oil supply is available that is financially and logistically feasible," Charles said via e-mail. "In the meantime, we are helping to reduce deforestation from palm oil production through our support of GreenPalm certificates."
In other words, the use of the certificates doesn't mean the palm oil in the cookies is sustainable, Vorva said.
The girls say they have no plans to stop their campaign any time soon.
In Washington, D.C., on April 17, Tomtishen and Vorva got the chance to share their story as panel speakers at a conference of 10,000 young environmental leaders called Power Shift 2011. The Energy Action Coalition organized the gathering.
In front of the White House over the weekend, they held up a sign, trying to get the attention of First Lady Michelle Obama, the honorary president of Girl Scouts USA. It read:
"Michelle Obama, we need your help to make Girl Scout Cookies rainforest safe!"
"Even though we're just two little Girl Scouts from Michigan, we do have the ability to do something like this and change Girl Scout cookies," Tomtishen said.
Juliana Keeping covers general assignment and health and the environment for AnnArbor.com. Reach her at julianakeeping@annarbor.com or 734-623-2528. Follow Juliana Keeping on Twitter.