Posted on
Sat, Oct 22, 2011 : 2:44 p.m.
SlutWalk participants march through Ann Arbor
By Lisa Carolin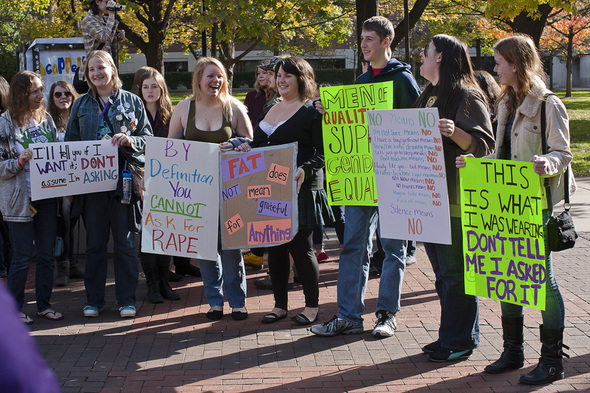 Joe Sharp | For AnnArbor.com
Nearly 75 people marched today through downtown
Ann Arbor
to the
University of Michigan Diag
as part of the international movement SlutWalk with the shared goal of ending victim blaming when it comes to rape.
Student organizers Megan Pfeiffer and Nicole Corrigan brought the movement to Ann Arbor.
"Ever since all the sexual assaults in Ann Arbor this summer, people have been telling me what not to do," said Corrigan. "They tell me not to stay at the library after dark and not to wear dresses that are too short."
"There is no excuse for violence against anybody," said Pfeiffer. "The FBI's current definition of rape is exclusive. It only includes certain types of rape, and we're asking people today to sign a letter that supports the newly proposed, more inclusive definition of rape."
The SlutWalk began after a representative from the Toronto Police Service in January said "women should avoid dressing like sluts in order not to be victimized" by sexual predators.
"Hearing what happened in Toronto is not okay," said Kari Borse, a U-M student who attended today's rally. "This is how we are standing up and saying we won't stand for that. You need to teach people 'don't rape' not 'don't get raped.'"
Participants in today's SlutWalk chanted, "However I dress, wherever I go, yes means yes. No means no."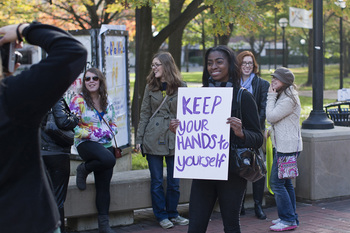 Joe Sharp | For AnnArbor.com
"It's never the girl's fault," said participant
Paige Hansen
from Owasso, adding that she was sexually assaulted when she was 14.
Ashley Scheetz from St. Clair Shores, also a victim of sexual assault, said, "We need to break the stereotype of victim blaming."
"It's about our misogynistic culture," said participant Alysa Hodgson, a student at Lansing Community College. "Men can't do whatever they want to women."
Her friend Michael St. Charles, a student at Michigan State University, came to support Hodgson and the cause.
"People need to understand the definition of rape, and know that what they're doing is wrong," he said. "Everybody needs to stand up for this."
SlutWalks have been held in cities throughout the U.S. and Canada, including New York City, Boston, Washington D.C. and Ottawa, Ontario.