Posted on
Sat, Nov 24, 2012 : 5:50 p.m.
Local merchants enjoy surge of customers on Small Business Saturday
By Lisa Carolin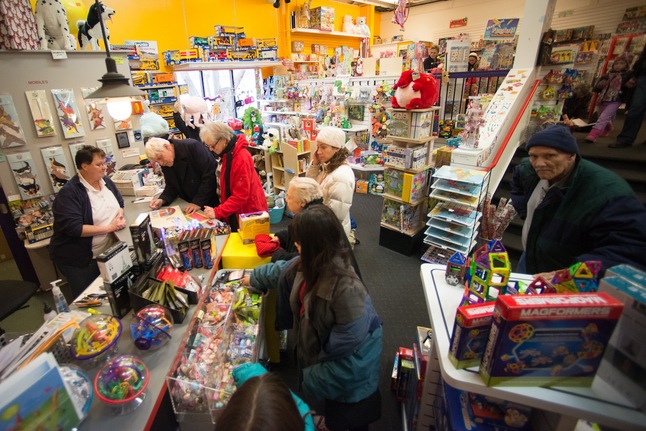 Courtney Sacco | AnnArbor.com
Stores in the
Ann Arbor
area got a healthy dose of support Saturday from shoppers eager to participate in the promotion dubbed
Small Business
Saturday.
American Express created Small Business Saturday in 2010 to help small businesses get more exposure on the Saturday between Black Friday, which generally benefits big-box retailers, and Cyber Monday, which benefits online retailers. American Express was offering subscribers who registered a $25 credit when they spent a minimum of $25 at a small business on Saturday.
eLocal.com, which bills itself as a home expert network, estimates that when people shop at local, small businesses, 65 percent of the revenue is reinvested in the community versus 34 percent of the revenue when people make purchases from national chains.
"That's why I'm out here today, for our community and our economy," said Reilly Quigley of Ann Arbor, who was visiting stores in Kerrytown along with his family.
Courtney Sacco | AnnArbor.com
Norman and Sara Sieman from Boston are visiting relatives in Ann Arbor and were shopping at Hollanders in Kerrytown because they like the idea of supporting a small, local business. Hollanders' employee Michelle Webster was pleased with the increased business the day brought.
"It brings the focus back to buying locally, and that's what our country is based on," she said.
Jan Benzinger and Sharon Plumley, co-owners of Mudpuddles toy store in Kerrytown were also enjoying a big sales day.
"We live in a community that supports local businesses, and I think that's great," said Benzinger.
Carol Sickman-Garner of Ann Arbor specifically waited until Saturday to take her daughter shopping for a birthday present for a friend.
"We never shop on the Friday after Thanksgiving," said Sickman-Garner. "We want to keep our money local and want our kids to do the same."
Many of the small businesses along Main Street in downtown Ann Arbor were also seeing a healthy flow of customers. At Lily Grace, a luxury cosmetics and skin care boutique, nearly everyone who shopped Saturday spoke about it being Small Business Saturday.
"It brings in both new people and replenishment customers," said owner Cyndi Clark, referring to those refilling skin care and make up products.
Across the street at Ayla, the women's clothing boutique, co-owner Narmeen Gaeta said she saw a big surge of customers Saturday.
"Supporting small businesses is a wonderful concept," said Gaeta. "We work hard, know our customers and stick to our concept and do it well. At a small business like ours, you get excellent customer service, the business owners are often there, and you develop longstanding relationships."
Gaeta says that her store's high visibility on Main Street means that many school organizations come in and ask for donations. She says that when people buy things at her store, it allows her to give back to the community.
Some of Saturday's small business supporters made Ann Arbor a destination.
"We brought our niece and her husband and kids from Birmingham to shop in Ann Arbor," said Ann Arbor resident Noel Hribljan. "This is a small town and that's why we like it."
Her niece Carla Justice said she was happy to be here.
"I like being outside, and not feeling claustrophobic at the malls," she said.
Janet Wisner, came from Grosse Pointe Farms just to shop in Ann Arbor.
"I like the independent shops," she said. "This is such a nice downtown and there are so many great local stores like Herb David, Found, Heavenly Metal and Lily Grace."
Lisa Carolin is a freelance reporter for AnnArbor.com. Contact the news desk at news@annarbor.com or 734-623-2530.