Posted on
Thu, Oct 27, 2011 : 6:01 p.m.
What's that smell on East Liberty? $1.2M sewer relining project
By Ryan J. Stanton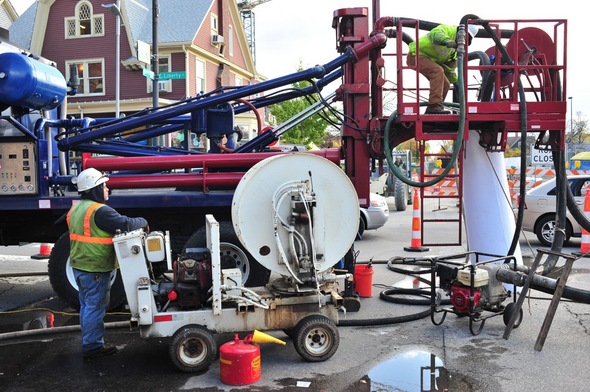 Ryan J. Stanton | AnnArbor.com
Wondering what that smell is in downtown Ann Arbor? Or what those crews are doing running big white tubes into the manholes along Liberty Street?
It's part of a $1.2 million project to reline city sewers, according to Igor Kotlyar, project management engineer in the city's public services administration.
Kotlyar said the trucks and equipment that have occupied Liberty Street since Wednesday are inserting a fabric material — mixed with different resins — into the existing stormwater pipes underground. He said the pipes are old and starting to crack, though not yet failing, and the new lining will make them last for another 15 to 20 years.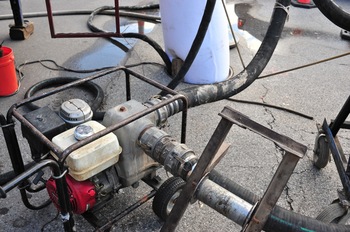 Ryan J. Stanton | AnnArbor.com
Though soft when installed, the fabric lining hardens when mixed with resins and water, which is pumped from the city's fire hydrants through a boiler and, after reaching about 198 degrees, is sent into the manhole to complete the chemical reaction, according to workers onsite who explained the process to AnnArbor.com.
"It opens it up to the diameter of pipe. In one day, we basically have brand-new pipe," Kotlyar said, acknowledging it does smell and produces a white steam.
"You don't want to breath in any of the stuff, but the steam is just from hot water," he said. "It just stinks basically. It smells like plastic. There's no dangerous chemicals."
The work is being done by Belleville-based Utility Services Authority, whose trucks were still out on Liberty as of 5 p.m. Thursday. Kotlyar said they'll be done Thursday night and won't be back Friday.
Liberty Street, which received new lining from Division to Main, is just one of more than 25 streets throughout the city where similar work is being done, including State Street. Kotlyar said both sanitary sewer and stormwater pipes were relined as part of the project.
"Liberty is just one of the parts. It's one of the last streets," he said. "We couldn't do it before because of the Big Dig — the construction out there on Fifth."
Kotlyar said the pipes being relined below Liberty Street are probably about 25 years old and measure 18 inches in diameter in some locations and 20 inches at other spots.
Benefits of the fabric-resin technology, he said, include that it's convenient, doesn't involve cutting up the street or doing excavation.
"I just think it's a really nice technology," he said. "It's not the first time we're using it, but it's definitely one of the nicer tools in our arsenal."
Ryan J. Stanton covers government and politics for AnnArbor.com. Reach him at ryanstanton@annarbor.com or 734-623-2529. You also can follow him on Twitter or subscribe to AnnArbor.com's e-mail newsletters.