Posted on
Sat, May 11, 2013 : 5:18 p.m.
Smiles abound as Ann Arbor police and fire departments hold open house and award ceremony
By Kyle Feldscher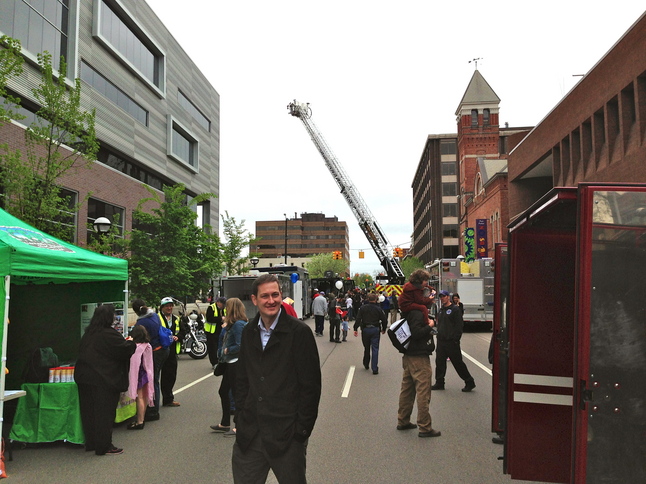 Kyle Feldscher | AnnArbor.com
Usually, when there is a large presence of police officers and firefighters in the middle of the street, there are concerned looks on their faces.
The Ann Arbor Police Department and Ann Arbor Fire Department gathered for an open house and awards ceremony Saturday, honoring civilians and officers alike and opening their doors to the public. The day included the Ann Arbor Police Department's first award ceremony since 2011, a vehicle extrication demonstration by the Ann Arbor Fire Department and a small ceremony honoring a Good Samaritan who helped save a man's life last fall.
Ann Arbor Police Chief John Seto, who also serves as the public safety administrator for the city of Ann Arbor, started off the awards ceremony praising his officers and the civilians being honored.
"I want to thank you," he said, adding, "it's not about the money or fame, it's about the one-on-one contact."
In the lobby of the Ann Arbor Justice Center, 301 E. Huron St., and with a backdrop of the Ann Arbor Fire Department's new Tower 1 truck, about 75 people gathered for the awards ceremony. Ann Arbor police Lt. Ed Dreslinski started off the awards honoring officers who reached their fifth, 10th, 15th, 20th and 25th years working for the Ann Arbor Police Department.
Among the people who were honored for 25 years of service in Ann Arbor were Detectives Chris Fitzpatrick and Dave Monroe and Police Services Specialist Kathy Flynn. Flynn would also be named the department's Professional of the Year later on in the ceremony.
Two civilians were honored for acts in the past year. Rolfe Carlson was given the Chief's Civilian Award for helping a police officer apprehend a man who was resisting arrest near the Blake Transit Center on April 20, 2012. Chai Montgomery received the Chief's Civilian Award for his role in the arrest of a bank robbery suspect on Dec. 5, 2011.
Montgomery was the Ann Arbor Transportation Authority driver who notified police that bank robbery suspect Lorenzo Patterson had got on his bus to escape the scene of a robbery at the TCF Bank, 125 Briarwood Circle.
Among the police personnel honored was Pastor Mike Wentzel, the department's chaplain. Dreslinski said Wentzel was on his way north for a holiday trip on Dec. 23, 2011, when he was learned of the death of Eastern Michigan University Police Chief Greg O'Dell, a former deputy chief with the AAPD who had many friends at the department.
"Pastor Wentzel turned his car around and stayed until all Ann Arbor Police Department members were taken care of," Dreslinski said, also praising Wentzel for his work comforting the widow of a man who was killed in a car accident at Maple and Dexter Ann Arbor roads in 2012. Wentzel received two professional excellence awards and a unit citation.
Other award winners from the ceremony were telecommunicator Tara Gilles (Gaye Limon Award for civilian bringing exemplary contributions to the AAPD), Sgt. Lyle Sartori (Command Officer of the Year), Officer Stephanie Kjos-Warner (Life-Saving Award) and Officer Geoff Spickard (Officer of the Year).
"Geoff is involved in training almost everyone," Dreslinski said, while reading comments made nominating Spickard for the award. "He is exceptional in almost every capacity."
After the awards ceremony wrapped up about noon, police officers and firefighters entertained members of the community on Fifth Avenue between Huron and Ann streets. Children were allowed to practice using a fire extinguisher on a small, controlled blaze. Displays included the Washtenaw County Metro SWAT Team's vans and equipment and a giant, inflatable Ann Arbor fireman who was a hit with everyone.
Ann Arbor firefighters tore apart a car as a part of their vehicle extrication demonstration. For about 45 minutes, Lt. Carl Hein showed a crowd that swelled to about 100 people the various ways a car must be torn apart to save a person's life.
Hein said there are usually 13 people who respond to an extrication call, but the demonstration only had four firefighters — and then three, once one firefighter had to leave for an active call.
"People ask, 'Why send 13 people?'" Hein told the crowd. "Because I'm saving someone's life."
Firefighters knocked the windows from the car before removing the hood, doors, roof and lifting the dashboard during the display. Hein said usually the process takes about 20 minutes and varies depending on the crash.
"All of the things we've been doing are based on what the patient needs," Hein said.
After the extrication demonstration ended and the car was sufficiently dismantled, Ann Arbor Fire Chief Chuck Hubbard led a small ceremony honoring John Hassen.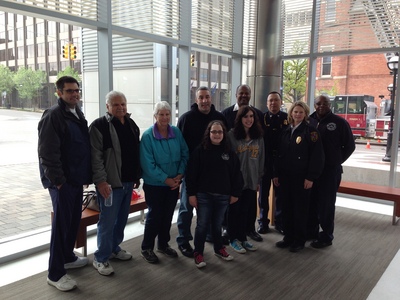 Kyle Feldscher | AnnArbor.com
Hassen was near the intersection of Sunnyside Boulevard and Seventh Street at 3:30 p.m. Nov. 10 after the University of Michigan played Illinois in football. Hubbard said an Illinois man driving a vehicle suffered a heart attack and his wife steered the vehicle into a tree to stop it.
Hassen jumped into action when he saw the crash and performed CPR on the man until medical personnel and firefighters could arrive on scene. Tom and Michelle Black, New York residents who could not be at Saturday's ceremony, worked with Hassen to save the man's life.
Hubbard praised their actions and said Ann Arbor needs more people like them.
"Their efforts made a huge difference," Hubbard said. "That's what we need more of, citizens stepping in and making a difference."
Kyle Feldscher covers cops and courts for AnnArbor.com. He can be reached at kylefeldscher@annarbor.com or you can follow him on Twitter.