Posted on
Fri, Dec 28, 2012 : 12:05 p.m.
Snow begins in Ann Arbor; accumulation expected
By AnnArbor.com Staff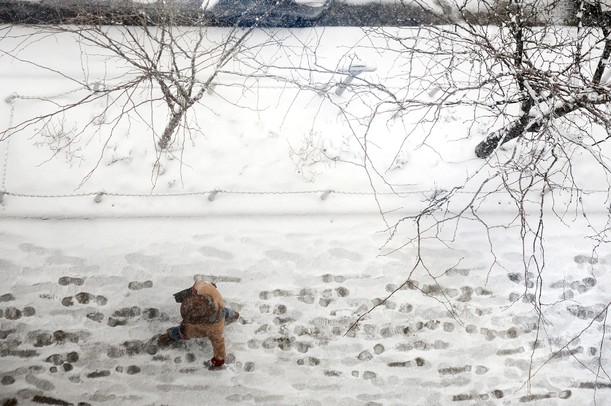 Melanie Maxwell | AnnArbor.com
Snow started to fall in Ann Arbor before noon Friday, and accumulation up to an inch is expected by mid-afternoon, according to the National Weather Service.
In a special statement issued around noon, the weather service said a light snow would spread throughout the region this afternoon.
From the weather service: An area of light snow will spread northeast across the area late this morning into early this afternoon. This snow will reduce the visibilities to one mile or less at times with accumulations of up to an inch possible by mid-afternoon, particularly from the M-59 corridor south. Drive with care as some area roadways will become snow-covered and slick. This will be especially true for untreated roads.
Ann Arbor was hit with up to 7 inches of snow Wednesday and early Thursday, snarling traffic as roads became snow-covered. It was the area's first big snowstorm of the season.
Snow is expected to continue Friday night, as well as Saturday. Friday night is expected to be overcast with snow, a low of 18F with winds less than 5 mph. The chance of snow is 70 percent with accumulations up to 1 inch possible.
Saturday's forecast calls for a 60 percent chance of snow and high of 28F. Winds from the NNW will be at 5 to 10 mph.
See up-to-date weather forecasts on AnnArbor.com's weather page.