Posted on
Sun, Dec 12, 2010 : 10:40 a.m.
Snow causes numerous crashes on Washtenaw County roads; worst is yet to come
By Cindy Heflin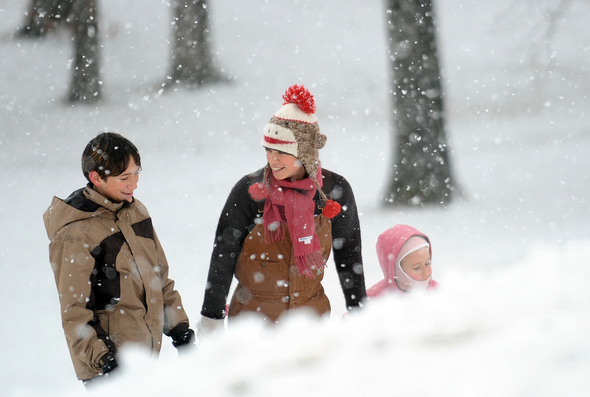 Melanie Maxwell I AnnArbor.com
A
snowstorm
that developed in the Rocky Mountains and walloped parts of the upper Midwest with 2 feet of snow had dumped about 2 inches on the
Ann Arbor
area as of 1 p.m. Sunday. That was enough to cause havoc on
Washtenaw County
roads, but the worst is yet to come, the
National Weather Service
says.
About 4 p.m. temperatures will start to drop and winds will pick up, causing blowing and drifting snow and possibly freezing slush on the roadways to ice, said meteorologist Steven Freitag with the National Weather Service in White Lake Township. The Weather Service predicts a total snowfall of 4 to 6 inches and has issued a winter weather advisory until 11 p.m.
Crashes have been occurring all day on highways and secondary roads across the county, a dispatcher with the Washtenaw County Sheriff's Department said. She said she was not aware of any serious injuries, however.
The Washtenaw County Road Commission is attacking the storm with its full fleet of salt trucks, said Jim Harmon, director of operations. Falling snow, however, makes it difficult to keep roads clear.
"All 46 of the trucks on the road right now focusing on state highways and paved county primary roads," Harmon said. "They will stay focused on those roads throughout the day."
As the current temperature hovers just above freezing, salt is turning snow on the roads slush and crews are scraping that off the roads on their rounds. By 8 p.m. drivers, who started at 6 a.m., will have put in a 14 -hour day, and a four-truck night crew will take over focusing on interstates and state highways. The Road Commission will monitor conditions overnight. "If the night crew starts to get overwhelmed, we can call people back," he said. He expects to call everyone back at 4 a.m. to get roads in shape for the morning rush hour.
Harmon said this morning that road conditions varied throughout the county. Many were covered with slush and snow. Some had "wheel track" conditions. He advised motorists to slow down and give other drivers, including the Road Commission's trucks plenty of room. "If you don't have to, avoid driving," he said. "If you do have to drive, then drive according to conditions."
About 1 p.m., crews were responding to crashes on westbound M-14 west of Nixon Road, northbound US-23 at North Territorial Road, wesbound I-94 at Baker Road, westbound I-94 east of Zeeb Road and westbound I-94 at US-23, a dispatcher said.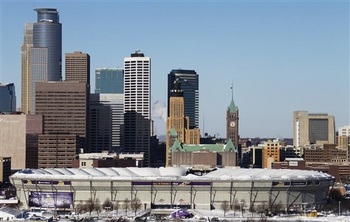 AP photo
The National Weather Service says says weather conditions will deteriorate as the day wears on. The heaviest snow period is likely to come between 4 and 8 p.m. this evening, said Freitag.
Bitter cold will move into the area later today and the wind will start to blow. Wind gusts of up to 40 mph are expected tonight and early Monday morning. Lows of 7 to 11 degrees are expected overnight. That could inhibit the ability of salt to melt the snow if ground and pavement temperatures fall too much, Harmon said. If that happens, the Road Commission will likely switch to a mix of salt and sand to help provide traction on the roads.
Southeast Michigan, however, is escaping the worst of the winter storm. The inflatable roof of the Metrodrome sports arena in Minneapolis collapsed after the storm dumped 17 inches on that city. A blizzard warning was in effect for Chicago and much of northern Illinois, all of Iowa, large sections of southern Minnesota and Wisconsin, and smaller areas in North Dakota, South Dakota, Missouri and parts of Michigan, according to the National Weather Service. Snowfall totaled 2 feet in some areas. Northern Indiana was and parts of southwest Michigan were expected to get 16 to 20 inches of snow.
For current forecasts, check AnnArbor.com's weather page.
The Associated Press contributed to this story.