Posted on
Wed, Apr 24, 2013 : 1:30 p.m.
Snow in April? How about May? It's not unusual for Ann Arbor
By Cindy Heflin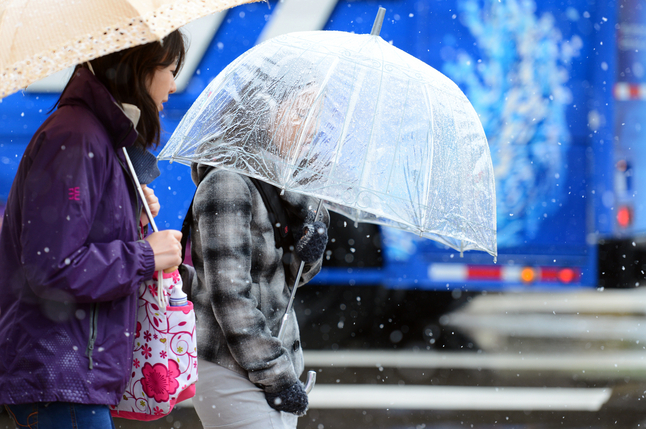 Melanie Maxwell | AnnArbor.com
Yes, that was snow falling in
Ann Arbor
on April 24, 2013, exactly 34 days after the official arrival of spring.
The snow was expected to continue for at least another hour or two, Deb Elliott, a meteorologist with the National Weather Service in White Lake Township said about 12:15 p.m. Wednesday. No accumulation is expected but that might seem like small consolation for the cold weary.
"We don't like it anymore than you do," she said.
But as unpleasant as the weather is, it's not all that unusual, Elliott said.
"We have had snow — at least flurries — occur into the month of May," she said.
In fact, the latest date for measurable snowfall in Ann Arbor was .5 inches on May 13, 191,2, said University of Michigan weather observer Dennis Kahlbaum. Last year, we had .2 inches on April 11.
Although this month so far has been colder than normal, we can be grateful that it's not as bad as it was in 1874. That year, the average high for the month was 37.6 in the Detroit metro area. That makes this year's average high of 54.2 degrees seem pretty good.
The normal high for this date is around 62 degrees. We're not going to see anything like that until at least Friday. Temperatures fell throughout the morning Wednesday, Elliott said. The thermometer stood at 35 degrees at 12:40 p.m.
The forecast called for rain and snow showers in the afternoon, turning to all rain after 2 p.m. The low was expected to reach 31 Wednesday night.
Thursday, it will be warmer with a high near 50, but we'll still have clouds and probably some showers.
Friday looks better, with mostly sunny skies and a high of about 58 degrees. And a pleasant weekend is in store with sunny or partly sunny skies and highs in the mid-60s.
At Downtown Home and Garden, better weather can't come fast enough. Business has been slow so far this spring, said owner Mark Hodesh.
"We make jokes about wearing down. I compliment all the ladies on their nice Northface jackets."
Customers are antsy too, Hodesh said. "A guy came in and he said 'I can't stand it any longer,' and he bought a nice new hoe, just to be doing something."
For updated weather forecasts and conditions anytime, check AnnArbor.com's weather page.