Snyder endorses Ouimet in 52nd District state House race as Dems attack Ouimet's business record
Posted on Thu, Oct 28, 2010 : 2:56 p.m.
Republican gubernatorial candidate Rick Snyder is throwing his support behind Republican state House hopeful Mark Ouimet, calling him a needed ally in the fight to reinvent Michigan.
"Mark Ouimet has the proven ability to look past partisan politics and do what is best for the people he represents," Snyder said in a statement included in a new Ouimet ad. "I need Mark's help to change Lansing's broken culture and to reinvent Michigan."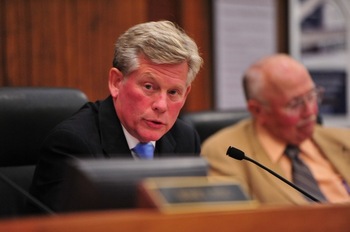 Ouimet, a Washtenaw County commissioner from Scio Township, appeared side-by-side with Snyder at a campaign event earlier this week in Jackson.
The Michigan Republican Party has mailed an ad to voters in the 52nd District, saying Ouimet and Snyder, together, will work to restore balance and "help move Michigan 10 steps forward," a reference to Ouimet's commitment to further Snyder's 10-point plan.
Ouimet is running on a platform of creating jobs and improving the economy, agreeing with Snyder that the state needs to reform the "job-killing" Michigan Business Tax and eliminate bureaucratic red tape that stands in the way of business growth.
"I think I have the skill sets that, at this time, are needed at the state level," Ouimet said. "And that is being able to work toward positions that can be positive regarding economic development, that can be positive toward job growth."
Washtenaw County Democratic Party officials, however, are calling into question Ouimet's business record, specifically his time as president of University Bank. Party officials said this week they believe Ouimet ran the bank poorly before resigning in 1997.
"Mark Ouimet's business record is a legitimate campaign issue because he has based a lot of his campaign on his business experience," Stuart Dowty, Democratic Party chairman, said in a statement. "The problem is he has a poor record. He was fired for poor performance from his last actual job in business at University Bank. He hasn't had a job in business since, so his record, to say the least, isn't very good."
Ouimet, who began his banking career as a teller, became president and CEO of Ann Arbor-based University Bank in December 1995. He previously work for Great Lakes Bancorp of Ann Arbor for more than a decade, achieving the rank of senior vice president for corporate and community affairs and first vice president for retail banking.
Ouimet said his severance agreement with University Bank prohibits him from saying much about his employment there or the circumstances under which he left.
"What I can say about my time at the University Bank was that it was a unique opportunity for community banking to broaden the spectrum of board members," he said, "because we had half the board was female, we had nonprofits, and the intent was to make it a true community bank. And I think they've gone on and done well after I left."
SEC filings show the bank entered into a severance agreement with Ouimet in November 1997, under which he was paid $115,000 in 1997 and $80,000 in 1998.
That terminated Ouimet's contract with the bank, which had provided for an annual base salary of $127,000, increasing each year by at least 5 percent, plus other bonuses. The total amount of bonuses available under Ouimet's contract was $750,000, of which $300,000 was paid in 1997 and $165,000 was paid in 1996, SEC filings show.
SEC filings of the bank's performance show losses of $896,000 in 1996 and $1.4 million in 1997, the two years Ouimet was in charge, followed by a loss of $396,000 in 1998 after he left.
"The increased loss in 1997 versus 1996 was principally due to increased losses at the bank's new Ann Arbor main office," SEC filings state. "During the year, fixed costs were higher than revenues, and although certain aspects of underlying operating results including key indicators such as net interest income improved, the break-even point was only reached from ongoing operations in the fourth quarter. A change in management at the bank also led to high severance and other expenses in the fourth quarter."
A Federal Deposit Insurance Corp. report dated Aug. 6, 1996, pointed out University Bank's inadequacies in loaning to low- and moderate-income borrowers.
"This evaluation concludes that University Bank has not effectively extended loans to individuals of all income levels or to low-income geographies throughout its assessment areas," the report states. "The bank's lack of lending in low and moderate income census tracts and to low and moderate income individuals in the Ann Arbor assessment area, and the minimal level of overall lending in the Sault Ste. Marie assessment area weighed heavily in the assigned rating."
The report also found what it called "substantive violations of Equal Credit Opportunity and Fair Housing laws and regulations" in loans denied and originated by the bank's wholly owned subsidiary, Varsity Funding Services.
Ouimet criticized the Democratic Party for its attacks on his record, calling it a distraction from the real issues of the campaign, which he said are jobs and the economy.
"I feel badly for my family who has had to go through this," he said. "And I feel sorry for the people who are attacking me. I mean, that's a very odd place to be, but some people live in a world like that. Instead of focusing on jobs and how we're going to make this better, they like to personally attack people and try to destroy them and their reputation."
Ouimet said he worked in the banking world from 1971 to 1997 before taking a job at Northwood University, where he served as vice president, chancellor and chief operating officer before leaving in 2002. Ouimet now manages several rental properties in Ann Arbor and is heavily involved with various nonprofit groups in the community.
Ouimet served on the Ann Arbor City Council from 1988 to 1992 and has been on the county board for the last six years, serving as vice chairman the last two years.
He faces off against Democrat Christine Green on Tuesday for a chance to replace state Rep. Pam Byrnes, D-Lyndon Township, in the 52nd District covering western Washtenaw County.
Green's campaign website states she is running because she believes "a strong democracy is dependent on the integrity of its laws." Green, who has been a lawyer for 25 years, has vowed to "work to bring accountability to Lansing by fighting for honesty and transparency," and to work to cut legislators' pay by 10 percent and end their lifetime benefits.