Posted on
Tue, Jan 15, 2013 : 12:44 p.m.
Snyder says he would have done right-to-work ad differently
By Cindy Heflin
Gov. Rick Snyder said he would not have emphasized recently enacted and controversial right-to-work legislation in an advertisement that also used the state's Pure Michigan slogan, the Detroit Free Press reported.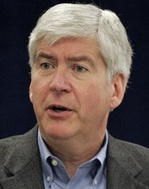 The full-page ad from the Michigan Economic Development Corp., which ran Jan. 8, touted Michigan as a good place to do business.
Snyder told the Free Press he would not have emphasized "one issue" in developing the ad.
MEDC president Michael Finney, former president and CEO of business incubator Ann Arbor SPARK, would not say whether he had discussed the ad with Snyder or thought it was a mistake, the newspaper reported.