Posted on
Sun, Feb 27, 2011 : 5:59 a.m.
Snyder tax plan would be costly for thousands of Michigan residents, including many seniors
By Peter Luke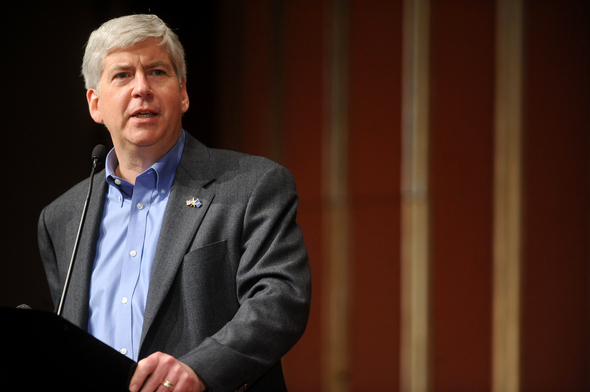 Angela J. Cesere | AnnArbor.com
LANSING -- However "simple, fair and efficient" Gov. Rick Snyder says his overhaul of Michigan's personal income tax is, it's still a whopper of a tax increase for hundreds of thousands of Michigan residents.
For politically active seniors, the increased tax bill could easily run into the thousands of dollars -- sticker-shock territory.
Michigan is only one of four states with an income tax that exempts retirement pensions from the levy. Economists have said it is fundamentally unfair to tax the income of wage-earners, but not the retirement income of seniors who rely on many of the same state services as everyone else.
Given the demographic trends of an aging population, moreover, the percentage of Michigan residents with no income tax liability is growing.
Gov. Snyder's tax plan

Gov. Rick Snyder's $1.8 billion plan to eliminate the Michigan Business Tax and replace it with a new tax on corporation profits would be financed through an equal level of change in Michigan's income tax code.
Rate: Currently 4.35 percent under present law, scheduled to drop to 3.9 percent by 2015 Proposal would lower it to 4.25 percent and freeze it.
Retirement exemptions: Current law exempts all Social Security, public pension payments, IRA, annuity and employer-contributed 401(k) withdrawals from income tax. Private pensions up to $45,120 for single filers and $90,240 for joint filers are also exempt. Under proposed law, all retirement income, except for Social Security, would be taxed at a 4.25-percent rate. Eliminates exemption, $20,115 for joint filers, for dividend, interest and capital gains income receive by seniors.
Homestead Property Tax Credit: Current law provides refundable credit on property tax bills that exceed 3.5 percent of household income, up to a maximum of $1,200. Non-seniors get a 60-percent credit; seniors, 100 percent. Credit is fully phased out when household income exceeds $82,650. Proposed law would provide an 80-percent credit to all filers, keep the maximum at $1,200 and lowers the income threshold to $70,000.
Michigan Earned Income Tax Credit: Three-year-old law provides an average of $432 annually to some 800,000 low-income wage earners. It equals 20 percent of the federal EITC. Proposed law would eliminate it.
Exemptions: The $2,300 senior exemption, the $600 dependent children exemption and the $3,700 personal exemption for single filers over $75,000 and joint-filers over $150,000 would be eliminated.
Credits: Tax breaks for city income tax payments and donations to universities, public broadcasting, food banks, community foundations, libraries, museums and historic preservation projects would be eliminated.
Source: House Fiscal Agency
Snyder is citing both the fairness and those trends in justifying a new tax on pensions that would also generate half the money he needs to finance a $1.8 billion business tax cut.
But politics, not economics would well drive the votes of lawmakers being asked to reformulate the tax code for some 1.1 million seniors that for some could amount to the largest single tax increase in modern Michigan history.
A senior couple with $77,500 in overall retirement income, $48,000 in pension, $2,500 in other income, and $27,000 in Social Security benefits -- that would remain untaxed -- would pay $1,840 in new income tax, according to examples crafted by the Michigan Department of Treasury. That couple would also lose about $720 in refundable homestead property tax credits because Snyder's plan ends eligibility for the credit at $70,000 in household income, down from the $82,650 current cutoff. It adds up to nearly $2,600 in new tax liability.
A couple with $42,000 in total retirement income and a $2,250 property tax bill would pay about $700 more, including $544 on $20,000 in pension income. While they'd still qualify for the homestead credit, it would be $156 less under Snyder's plan. Ten days after Snyder proposed nearly $1.9 billion in income tax changes to finance a similar level of business tax reduction, Republican lawmakers taking concerned calls from seniors back in the district haven't rushed to endorse the plan.
"I don't think it's going to pass at all," said Sen. Joe Hune, R-Hamburg. "I don't even know if it will come up for a vote. For the last two years, I've said I wouldn't stand for new taxes."
"The governor's probably right on the fairness issue, but I just don't want to tax seniors, period," he said.
In relying on higher taxes on seniors to finance a business tax cut he says would transform Michigan's troubled economy, Snyder is essentially asking for sacrifice from grandparents to improve the job prospects of their children and grandchildren.
"When people talk about how they're affected by this tax act," Snyder told state association executives in a speech last week, "what I ask you to do is empathize with them that they may be asked to give up something."
"But after that change is made, are they being treated fairly? Are they being treated in a fair fashion with the rest of the citizens of our state?" Snyder asked. "I think you'll find the answer is yes."
Indeed, a married couple with one child, $45,255 in income and a $2,250 property tax bill would gain $134 in homestead credits through the change. Under current law, non-seniors get a 60 percent refund on the amount of property tax that exceeds 3.5 percent of their income, but seniors get 100 percent back. Snyder's plan would equalize that so every credit recipient would get 80 percent.
But a family of four earning $25,000 would see an $856 increase in taxes, according to an analysis by the Michigan League for Human Services. They'd pay $450 in income tax that gets refunded now under the Michigan Earned Income Tax Credit that Snyder's plan would eliminate. And they'd lose another $406 in cash back that the credit currently provides.
There is Republican support for eliminating the MEITC, which costs about $355 million in fiscal year 2011, but the toughest aspect of Snyder's plan will be taxing seniors.
"When you're an elected official, at the bottom of the list of constituencies you want to take on is seniors because they vote frequently and they have time on their hands," said Jeff Padden, a former legislator who runs Public Policy Associates in Lansing. "Senior citizens matter a lot in elections."
AARP Michigan is mobilizing its 1.4 million members to phone and write their legislators in opposition to both the pension tax and the elimination of the MEITC.
It's unclear whether the business groups whose members would be the biggest tax beneficiaries of Snyder's plan will mount the lobbying effort required to push through the less popular income tax replacement revenue.
The Michigan Chamber of Commerce backs all aspects of Snyder's plan, says the chamber's chief tax analyst Tricia Kinley.
"We can support the direction the governor has taken on the budget and all the tax reform. The attitude is that it's the right and fair thing to do."
Republican leaders in the Legislature are still studying the plan, to be introduced in the House on Wednesday in one single bill to cover both the business tax cut and the income tax changes.
Lawmakers who oppose the pension tax will be told to fill the resulting hole some other way, through specific spending cuts or other revenue.
"The pension part is going to be the most politically difficult, but the governor's proposal is focused on the policy side of things and that's how we'll try to address it as well," said Ari Adler, spokesman for House Speaker Jase Bolger, R-Marshall.
"Some (seniors) might be opposed, but we've heard from others who are willing to help out," he said. "We are taxing the youngest generation and there are no jobs for them, so no wonder they're moving out of state."
You may reach reporter Peter Luke at pluke@boothmichigan.com.