Posted on
Sat, Apr 30, 2011 : 12:06 p.m.
Governor tells University of Michigan graduates to be 'explorers,' have a mission
By Ryan J. Stanton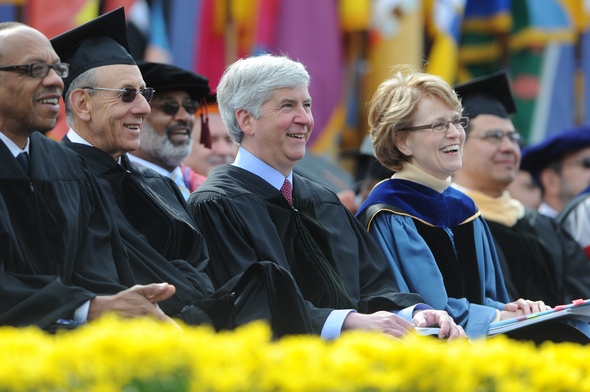 Melanie Maxwell | AnnArbor.com
Gov. Rick Snyder set politics aside today as he addressed the University of Michigan's 2011 graduating class and shared his personal story as a student at the university.
Arriving on U-M's campus in January 1976, Snyder, from the small town of Battle Creek, admitted he was probably one of the least worldly people around.
"The first week I was there, a number of my friends I had met said, 'let's go get a fragel,' so we went to the Bagel Factory and I had my first fragel," he said, adding he didn't want to admit he had never even had a regular bagel before. "I didn't know what a bagel was."
Snyder recalled his first living situation in a three-person dorm in West Quad. One of his roommates was a junior who managed to get himself kicked out of university housing for "a lack of social and moral behavior," Snyder said, "and that's the nice way to put it."
His other roommate was a freshman. Snyder said he's convinced that roommate only made it through the first few years of his engineering studies.
"Engineering was not his passion and love," Snyder said. "His true passion and love was botany, and I believe that was based on the fact he had a significant plantation in our room."
Snyder said he "almost didn't make it," but he went on to earn three degrees at U-M by the age of 23, including a bachelor's degree in general studies, an MBA and a law degree.
Snyder said he completed a work study, became a resident adviser, taught classes in the business school and thoroughly enjoyed his time at Michigan.
"My years were amazing," he told today's graduating class in his 18-minute speech. "I had opportunities to do things you couldn't do at other schools."
About 40,000 people packed inside the Big House for today's commencement ceremony, including about 5,500 graduates. Despite rumors that some students were planning to be loud and disruptive while Snyder spoke, the Republican governor — who has proposed deep cuts to university funding — received loud cheers from a mostly respectful crowd.
Only about two dozen graduates stood with their backs turned during Snyder's speech. The U-M College Democrats tried to rally to get more to turn their backs prior to commencement.
"As you travel from this stadium, ask yourself what is your mission," Snyder told today's graduating class, encouraging them to be "explorers."
Snyder said his own mission has been to make the world a better place and be able to say he added value, and part of that includes having fun. After a successful career as a businessman, he said getting involved in public service was the second phase of that mission.
"The opportunity arose to run for governor because we were a broken state, and there was an opportunity to reinvent our state," he said.
"Now the having fun part isn't really true today. But what I say in that context is it's not about laughs, it's not about enjoyment while you have to make tough decisions. It's about saying is there satisfaction in doing the right thing and hopefully making our state a better place."
Snyder encouraged students to always remain positive and forward-looking and to work with others to "win together" and to solve problems.
"It's about giving your all and making a difference in people's lives," he said. "If you are a leader and you have a mission, don't worry about getting the mission entirely done. That may not be possible. But if you continue to give your best and try to make that happen, by giving your best, you will be a stalwart among the leaders and best. So take that into life."
Ryan J. Stanton covers government and politics for AnnArbor.com. Reach him at ryanstanton@annarbor.com or 734-623-2529. You also can follow him on Twitter or subscribe to AnnArbor.com's e-mail newsletters.