Posted on
Mon, Mar 14, 2011 : 5:55 a.m.
Gov. Rick Snyder's proposal to cut historic tax credits and incentives could significantly slow Ypsilanti's redevelopment, officials say
By Tom Perkins
If Gov. Rick Snyder's budget is approved, a mix of historic tax credits and incentives will end. In Ypsilanti, where the state programs have spurred the rebirth of dozens of properties over 12 years, developers and city officials are worried.
Will the city's redevelopment lose steam?
Among the projects using state and local historic credits and incentives are the recently completed Peninsular Place student apartments, several downtown buildings, and a dozen residences. Officials say developers have used the incentives in more than 45 projects — projects that would've been impossible or significantly more difficult without the tax breaks.
Several works in progress are also making use of the tax breaks, such as Water Street, the Thompson Block and Mellencamp Building. Under the current proposal, works-in-progress won't lose their tax incentives.
The state credits are especially vital to Ypsilanti because of its large stock of historic buildings and a large historic district, said city planning director Teresa Gillotti. Ypsilanti is built out and rents there are lower than in a city like Ann Arbor, making it more difficult to recoup investment costs. The credits and incentives make it financially possible to develop in Ypsilanti, she said.
Representatives from Snyder's office did not return calls for this story, but he has previously proposed eliminating specific incentives as part of streamlining business taxes, then creating a pool of $100 million to reward some projects.
In interviews with AnnArbor.com, local developers echoed officials' concerns about what could happen in Ypsilanti if Snyder's plan goes forward.
Tom Perkins | For AnnArbor.com
Developers Eric and Karen Maurer of Maurer Management and Properties used a combination of credits and incentives for three downtown renovations over the last 10 years.
The Maurers say they will have invested approximately $6 million and received $2.5 million in state, local and federal breaks, by the time the Mellencamp Building at 120 to 124 W. Michigan Ave., is complete in September.
Prior Maurer renovations include the Mack and Mack Building at 211 to 215 W. Michigan and part of the West Michigan Lofts project at 200 to 204 W. Michigan Ave.
Crucial to each those projects were State Historic Preservation Office tax credits for $200,000.
"We basically started with a shell on those, so you're talking about a whole lot of money to renovate," Karen Maurer said. "I think it's more expensive to restore than to put up a new building because you have to take what you have and make it work, and there are so many codes now. It wouldn't be possible without breaks."
The Maurers also used Brownfield incentives, which are offered for properties in need of significant cleanup or those with "functionally obsolete" structures.
At the local level, Ypsilanti's City Council also approved an Obsolete Property Reduction Act abatement on several Maurer properties. That abatement freezes a building at its current value when construction begins. The freeze continues for up to 12 years, and owners are exempt from paying certain millages during that time.
The fate of local incentives is still unclear, but officials say they're preparing for the worst.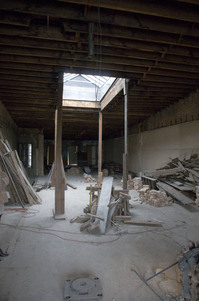 AnnArbor.com file
Developer Stewart Beal has also received breaks on projects in Ypsilanti. He partnered with the Maurers and George Fotiadis to complete the West Michigan Lofts project. He owns the property at 208 W. Michigan Ave.
The 20 lofts on the building's second floor share a hallway and an elevator, but each developer owns his or her own units. Beal said those have been occupied since their 2006 completion, and each developer owns storefronts on the ground level, which have seen varying occupancy rates.
In total, Beal estimates the project cost $3 million, and he said about $700,000 of that was covered in state and federal historic tax credits.
"That project would not have gone forward without federal and state historic tax credits, and the OPRA," Beal said, referring to the Obsolete Property Reduction Act. "Those are the three tools we used. We actually wouldn't have even bought the buildings if those tax credits weren't in place. It was always our intention to use them, and if those tools weren't there, those building would be how they were before."
Beal is also using a combination of credits and incentives for the Thompson Block building, on which he says he will resume construction this spring. As with the West Michigan Lofts, the Thompson Block wouldn't have been a consideration without the breaks, Beal said.
State records show Brownfield and historic preservation credits alone have provided $3.5 million in breaks in Ypsilanti, not including local and federal incentives, over the last 12 years. Completed or planned investment in those projects utilizing state breaks totals $21 million. Adding the stalled Water Street development to the tally equates to another $120 million in investment once the project is complete.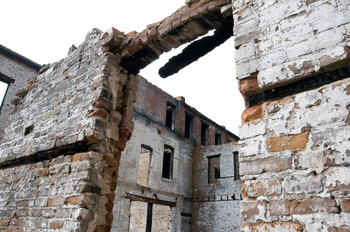 Tom Perkins | For AnnArbor.com
Even when federal and local tax breaks are added, the city still sees roughly $3 of investment for ever $1 in breaks. It's not clear whether the cuts would affect local Brownfield incentives and the Obsolete Property Reduction Act. Under Snyder's budget, state Brownfield incentives would go away.
"We have had great success in using the OPRA in combination with (state and local Brownfield) or historic tax credits to renovate and finish off some of our buildings in downtown and Depot Town," Gillotti said.
Brett Lenart, director of the Washtenaw County Brownfield Authority, estimates state Brownfield projects helped provide 180 construction jobs in Ypsilanti over the last eight years. Beal said his construction company currently has 70 people working on a project tied to Brownfield incentives in Detroit.
"I voted for Snyder and I'm really interested in making Michigan a pro-business state, but I don't understand how eliminating tax credits makes your state pro-business," Beal said. "Maybe he has a long term plan for way, way, way down the road, but, in the short term, it's a slap in the face to business."
Beal said the loss of the incentives would mean developers would have to raise far more cash to complete a project, making most renovations unfeasible. He also said rents in Ypsilanti are too low to consider new buildings.
"I have never even investigated building a new building in Ypsilanti," he said. "All I've done for the past 10 years is buy and renovate 50 properties. How do you encourage development without any tax credits is beyond me."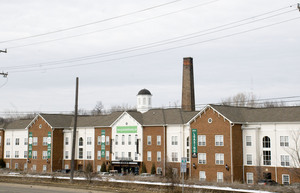 Tom Perkins | For AnnArbor.com
The only significant new development in recent years in the city has been the Peninsular Place apartment project, which brought hundreds of student apartments to Huron River Drive across from Eastern Michigan University's campus. Peninsular Place developers used local Brownfield incentives to clear the property of the old dam.
Marurer said the only incentive left to buy old buildings is being able to choose from so many in foreclosure.
If Snyder's plan does happen, Ypsilanti Mayor Paul Schreiber and Gillotti fear the changes would lead to increased sprawl. They say developers will use different incentives to start new buildings on open land rather than redevelop the older stock of structures that "core" cities such as Ypsilanti offer.
Lenart said he is also concerned about the long-term balance between Greenfield projects designed to spur new development and Brownfield projects.

"Time will tell what happens, but we have approved a lot of plans solely relying on (Brownfield incentives), so that's a good indication of the importance they have," he said.
Tom Perkins is a freelance reporter for AnnArbor.com. Reach the news desk at 734-623-2530 or news@annarbor.com.