Posted on
Mon, Mar 28, 2011 : 5:55 a.m.
Soccer fields, 5 miles of trails, mountain biking amenities on the way to Rolling Hills Park in Ypsilanti Township
By Juliana Keeping
Cycling, 5-kilometer runs and other community-friendly events could be in the future for Rolling Hills Park with the addition of a ring road and miles of paved trail planned for spring.
And soccer families can look forward to five new fields in the county's largest park.
The road and trail are key pieces in a plan to develop the Ypsilanti Township park in southeast Washtenaw County.
The purchase of three adjacent properties since 2005, including a 96-acre Wiard property, has more than doubled the park's size to 363 acres, said Tom Freeman, deputy director of Washtenaw County Parks and Recreation. The two-mile road and eventual five-mile trail system will connect it all.
The planned road and trail eventually will swing by an amenity mountain bikers will appreciate and on which work has already started: a system of trails constructed under the guidance of the Michigan Mountain Biking Association on the east side of the property.
Coy Vaughn, superintendent of park planning, said the developments are part of a 20-year improvement plan for the park approved by Parks and Recreation Commission in March 2009. Part of the long-term plan includes improvements to the water park and 18-hole disc golf course, Vaughn said.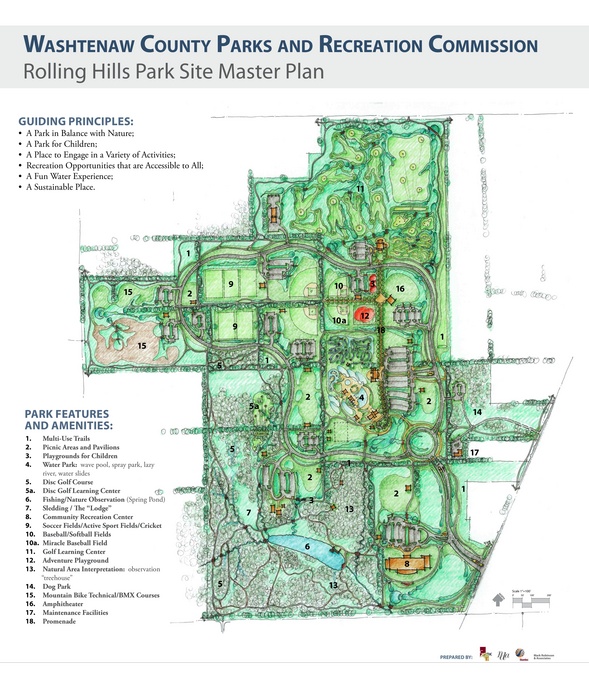 Washtenaw County Parks and Recreation rendering
Juliana Keeping is a health and environment reporter for AnnArbor.com. Reach her at julianakeeping@annarbor.com or 734-623-2528.
Follow Juliana Keeping on Twitter