Posted on
Sat, Nov 26, 2011 : 2 p.m.
Fish mascot for University of Michigan solar team gets a bigger home
By Lisa Carolin
When the University of Michigan's solar car team overcame a brush fire and dust storms to place third in the 1,864-mile World Solar Challenge in Australia last month, the 16-member team from the College of Engineering not only had the power of its vehicle Quantum behind them — they had the inspiration of their mascot Blaze, the goldfish.
The solar team's blog recognized "the amazing persistence and motivation Blaze embodies, which is parallel to that of the solar car team."
Named for his vibrant orange color and resemblance to the sun, Blaze stayed at home in his cozy 1.5-gallon fish tank in the solar car team's office during the race. Next week the growing fish will relocate to significantly bigger digs.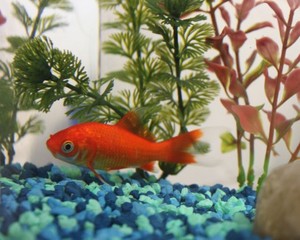 Lisa Carolin | AnnArbor.com
Tom Campbell, a U-M graduate and owner of Fish Doctors, a retail store specializing in fish tanks, is donating a 29-gallon system that includes a tank, stand, hood, light, filter, gravel, decorations, and de-chlorinanator to Blaze. It's a big step from the goldfish's humble beginnings.
"He started out life in an upper mold from one of our old cars where he resided while the team raced in and won the 2010 American Solar Challenge," said Kelsey Arens, a mechanical engineering student on the solar car team. "He then lived in a water cooler, a bowl-shaped trophy from the 2005 World Solar Challenge, and finally his current 1.5-gallon tank."
The reason for the large system, Campbell said, is that goldfish have a long potential lifespan and a large potential size.
"This way the solar team won't have to seek another donation for years to come," said Campbell.
Campbell calls the donation, "A collaboration between a U of M graduate and business owner (him) and a high profile, successful program at the U (the solar car team) to provide a nice habitat for an unlikely hero, (Blaze)."
Team members accept the fact that it would be a traumatizing experience for Blaze to accompany them to races, so he stays in their office.
"Blaze is currently in our office, and we plan on keeping him there," said Arens. "It can be locked and he's not as exposed to the dust and debris from the various projects in the Wilson Center (the College of Engineering's workshop)."
The solar team has been around for two decades and has won the North American Solar Challenge six times. With the support of his teammates and his fancy new abode, Blaze may very well be around to inspire them to many more victories.