Posted on
Sun, Jun 20, 2010 : 9:30 a.m.
Ypsilanti City Hall goes solar with grant funds
By Tom Perkins
Ypsilanti City Hall is now using solar energy to reduce its carbon footprint, a move that comes at no extra cost to taxpayers.
Using roughly $27,000 out of a $36,000 state grant awarded to the Ypsilanti Food Co-op in May 2008, Solar Ypsi founder Dave Strenski and a team of volunteers installed 12 panels on city hall's south side roof in April.
The panels provide 2.5 kilowatts of electricity, supplying only a small fraction of city hall's needs when the building is humming during peak business hours. But on weekends, when the lights are dim inside and the sun is bright outside, Strenski said the panels generate nearly half of city hall's consumed power.
The 12 panels run approximately 40 feet across the roof and generate around 9.8 kilowatt-hours on average per day. Strenski said he uses about 12 kilowatt-hours per day in his house, while the average home uses slightly more.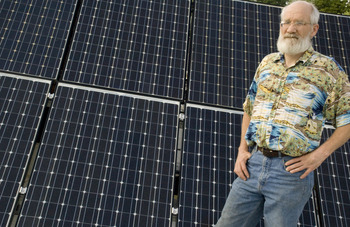 Tom Perkins | For AnnArbor.com
Strenski developed software to measure city hall's energy usage and how much electricity the panels are producing. With the help of Eastern Michigan University computer science student Nick Estep, they've developed a website to display the data at solarypsi.org.
With the program, Strenski has a good idea of the building's consumption patterns.
"I watch it every day and I can tell if someone left the lights on last night," he said. "It makes you appreciate the power that you're consuming."
The set-up works by running a direct current from the panels down the back wall and into an invertor. The invertor converts the current from direct to alternate and "listens" to the type of alternating power the building is using. Then, when it's sunny, it sends in the correct power to match it.
Any resident can see how much energy the building is consuming and how much energy the panels are producing on solarypsi.org. The software Solar Ypsi uses is downloadable for free, so people can gauge use at their own homes or businesses. The site also shows how much money the city hall panels and co-op panels, installed in 2009 with the grant's remaining money, are saving.
Strenski said he hopes the site will ultimately lead to increased use of solar energy in the area.
"That's the direction we're going with this - we want people to look at the website and build a community around monitoring power," he said.
Typically, a person pays $8 to $9 per watt to install solar panels, though city hall cost slightly more because of the awkward position of the roof. Each panel at city hall produces 205 watts, but panels can vary depending on quality.
Tom Perkins | For AnnArbor.com
Strenski acknowledged most people don't have the initial $30,000 to invest to run their homes on solar power. But he said energy prices will likely rise steadily in coming years, while solar panels allow people to produce their own energy at a fixed price.
When residents produce their own electricity and don't buy it off the grid, they save about 12 cents per kilowatt hour. In the case of city hall, that's $1.18 per day on average. When energy prices go up, as Strenski expects they will in the near future, those savings also go up.
Stresnki also said people can take advantage of federal renewable energy tax credits, accounting for one-third of the initial investment. In addition, DTE Energy is required to obtain a certain amount of its energy from solar panels, and will pay $2.40 per installed watt, covering roughly one-third of the panels' installation cost.
In the long-term, the investment will be a money-maker, Stresnksi said.
The idea to install panels at city hall came to Strenski several years ago. While waiting at the stop light on Huron Street south of Michigan Avenue, he glanced at the south side of city hall and saw the building's roof.
"I was thinking, 'What a great place for solar panels,'" he said.
Strenski also recently received another grant for $44,000 to install 30 panels - producing 6 kilowatts total - on the co-op's bakery roof on River Street. It is Solar Ypsi's next big project, and Strenski expects the 6 kilowatts the panels produce will be enough to run the bakery on 100-percent solar energy.