Posted on
Sat, Oct 15, 2011 : 2:22 p.m.
Some ticketless Michigan fans make trip to East Lansing just to soak up the atmosphere
By Alex Mitchell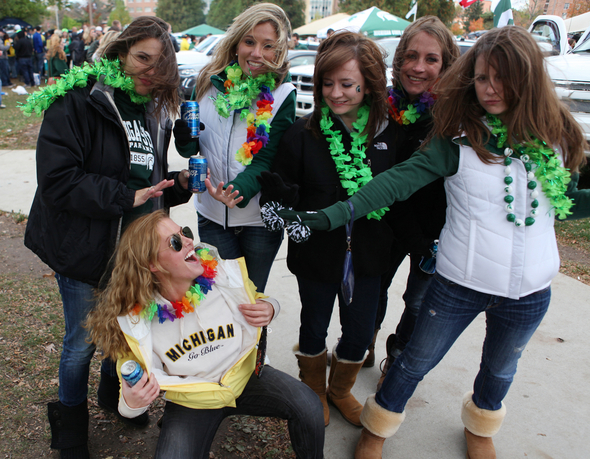 Jeff Sainlar I AnnArbor.com
With the
University of Michigan
and
Michigan State
football teams squaring off in East Lansing, today and tickets on the website StubHub running between $175 and $500, some Michigan fans chose to simply enjoy the big game atmosphere outside Spartan Stadium.
While some fans took advantage of the sports bars and restaurants lining Grand River Avenue, others brought their own party and game day cuisine.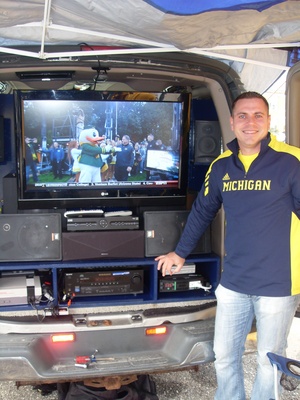 Alex Mitchell | For AnnArbor.com
"This is our open tailgate, our living room on the road," said Michigan fan Mike Dorland, who traveled from nearby Grand Ledge.
Dorland traveled with several friends, all Michigan fans, and set up one of the only Michigan tents in the popular tailgating parking lot across from State's International Center. It also may have been one of the most impressive.
A Michigan popup tent covered an array of tailgating food on a table. Backed up next to the tent was a van with a flat screen TV connected to a satellite dish, a Sega Genesis and a Nintendo.
"Can't forget the Nintendo," Dorland joked.
Dorland said that he and his friends did not have tickets to the game and that they would be enjoying the game from their tailgate spot via their satellite dish.
While fans like Dorland took on the role of super fan, others played the part of game day analyst.
Keela Pinskey, who traveled from Armada, said she and her friends came up to watch what they were sure would be a Michigan victory and to take it in on State's territory, even though they didn't have tickets. She said they tailgate for Michigan games often, but rarely get the opportunity to come to this game.
"It's going to be Michigan by seven," said Pinskey.
"Denard is going to run all over them," said Mark Hathaway, who traveled with from Durand. "With Denard at quarterback you never know what is going to happen. He is the best player in the country."
Hathaway and his friends found a tailgating spot near the Red Cedar River. He said they were going to continue tailgating until the game kicked off and could find a TV to watch it on.
"You can't beat the atmosphere; it's Michigan versus Michigan State," he said.
While most fans travel from within the state for the game, at least one Michigan alumnus used the game as an opportunity to return to his home state.
"I'm a diehard Michigan fan," said Dave Thompson, who made the trip from Long Beach, Calif. "I did both my undergrad and grad at U of M."
Thompson said that he comes to Michigan about three times a year to go to home games.
"I'm here with my best buddy, we make one road trip a year, and this year it just happens to be to Michigan State," he said.
Thompson hasn't been on State's campus for more than 30 years, but he said he thinks the area near the Red Cedar River is one of the campus's best tailgating spots.
"It's a great Big Ten football atmosphere," he said.