Posted on
Thu, Apr 28, 2011 : 5:59 a.m.
Some U-M Law School students don't want Rob Portman as graduation speaker, call him anti-gay
By Cindy Heflin
While undergraduate students at the University of Michigan are protesting the choice of Michigan Gov. Rick Snyder as commencement speaker, some students at the U-M Law School are unhappy about the man chosen to give their graduation speech as well.
U.S. Sen. Rob Portman, R-Ohio, chosen to speak at the Law School's Senior Day on May 7, has a record of voting for anti-gay legislation, critics say.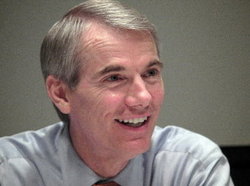 Plain Dealer photo
Law School Dean Evan Caminker is aware of the criticism and met with students to hear their concerns, said U-M spokesman Rick Fitzgerald. But Portman is "a distinguished graduate of the University of Michigan Law School with a long record of public service," Fitzgerald said.
He noted the law school has invited many graduates now in public service to speak. "The university believes they have good things to talk about to our graduates," Fitzgerald said.
He also said that while "his voting record is his voting record," Portman is not someone who frequently speaks out on gay issues. Portman is a 1984 graduate of the Law School.
An e-mail to Caminker protesting the choice of Portman was signed by 98 members of the graduating class, Fitzgerald said. Another e-mail from about 200 students also expressed unhappiness with the choice, Fitzgerald said.
This week, the organization Equality Michigan weighed in on the issue, issuing a press release citing the students' opposition and saying it agreed "Portman is a poor choice."
An e-mail from the organization included a statement by Denise Brogan-Kator, who is interim executive director of Equality Michigan and a 2006 University of Michigan Law School graduate.
"As a U-M law school alumna and a public advocate for gay and transgender Michiganders, I am very concerned with Senator Portman's selection as commencement speaker and the message that it sends," Brogan-Kator wrote. "Choosing a speaker who actively works to deny opportunity and equality for some graduates profoundly mars this ceremony and reflects poorly on our state."
Portman's office did not return a message seeking comment Wednesday, but spokesman Jeff Sadosky told the Cleveland Plain Dealer last week: "Rob believes marriage is a sacred bond between one man and one woman."
As a member of the U.S. House of Representatives from southwest Ohio before joining the Bush administration, Portman voted for a constitutional amendment to ban same-sex marriage, the Plain Dealer reported. He also voted for the Defense of Marriage Act, giving states the right to refuse to recognize gay marriages performed elsewhere. Portman also voted in 1999 to bar same-sex couples in Washington, D.C. from adopting children, the Plain Dealer said. That amendment narrowly failed.