Updated 7:30 a.m.:

Some Washtenaw County roads slick this morning; winter weather advisory in effect until noon

Posted on Tue, Jan 18, 2011 : 5:05 a.m.
Rising temperatures helped drivers avoid problems on area roads this morning despite a wintery mix that expanded across Southeast Michigan early today. The National Weather Service issued a winter weather advisory for the region through noon.
Forecasters warned the morning commute could be a slow and slick one, but just before 7:30 a.m., there had been no crashes on area freeways, a dispatcher with the Washtenaw County Sheriff's Department said. Some spinouts had occurred on secondary roads, she said. Crews with the county Road Commission had been out salting, dispatchers said.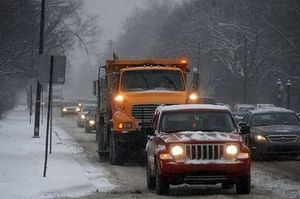 Spiritus Sanctus Academy in Ann Arbor closed for the day, but all Washtenaw County Public schools were open.
The National Weather Service said this morning's wintery mix is a combination of sleet and freezing rain. As the temperature rose above freezing, the precipitation turned to all rain, but forecasters expected it to change back to snow in the afternoon. At 7:45 a.m, the temperature in Ann Arbor was 35, the weather service said.
Forecasters had predicted a light glazing of ice, but nothing in the way of accumulation.
The weather service warned drivers that untreated or less traveled roads will likely be slick this morning.