A child's short life brings joy, sorrow and strength to an Ypsilanti family
Posted on Sun, Jun 17, 2012 : 5:58 a.m.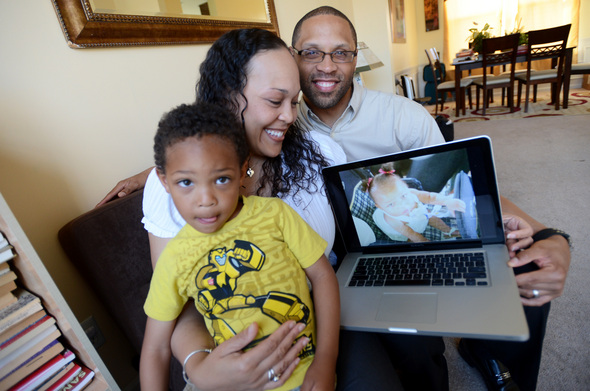 Melanie Maxwell | AnnArbor.com

Ypsilanti residents Reggie and Sontina Barnes were ecstatic when they discovered three years ago they would soon be proud parents of a baby girl.

Sontina was 16 weeks pregnant in 2009 with their second child when a doctor ordered a routine ultrasound. While examining the ultrasound, the doctor noticed something amiss and suggested the couple go to the University of Michigan Hospitals to make sure everything was OK.

At U-M, Sontina had a 3D ultrasound done and the Barnes learned their unborn daughter had a heart defect.

"Even at that time, we still weren't too concerned until they told us she might have more of a severe heart defect," Sontina said.

They were given the option to terminate the pregnancy.

"Before I could even say a word, Reggie was like 'absolutely not, this is our daughter and we want to meet her,'" Sontina said. "So we decided to go ahead and go through with the pregnancy."

It was a decision that that would bring them great joy and ultimately great sorrow over the next couple of years. It would also pull them closer together as a couple and a family.

The pregnancy

In 2009, the Barnes had moved to Michigan from New York after Sontina was accepted into the Thomas Cooley Law School in Ann Arbor.

Sontina recalls being excited to celebrate her first Michigan Christmas that year. When she went outside to watch the snowfall, she slipped and fell and began to have premature contractions.

"At that point, we realized that we had no family here," she said. "That was around when I was six months pregnant and we decided to try and stretch it out. We made the decision to move closer to grandparents and I took a leave from law school."

Sontina and Reggie moved to North Carolina with their toddler son Josiah to stay with her parents so they would have some help when the baby was born.

Selah Janan Barnes was born March 26, 2010, at Duke University Hospital.

"I was always afraid to have a daughter," Reggie said. "I was afraid to have a baby girl and to finally have one, I immediately fell in love with her. It was kind of bittersweet though."

As soon as Selah was born, she was whisked away to another room because of her heart defect which was caused by a genetic condition called Digeorge syndrome.

Digeorge syndrome is caused by a defect in chromosome 22 and could result in poor development of several body systems, a weak immune system, and a cleft palate.

"They had to put her in isolation so we had to wear gloves, masks, special shoes and a gown and everything so we wouldn't infect her," Reggie said. "We couldn't embrace her or kiss her like parents normally get to do."

Problems arise

A week after Selah was born, the family had to get ready for her first open heart surgery.

"Seeing her hooked up to all of those machines and not being able to hold her was definitely hard," Sontina said.

Shortly after that, Selah underwent a second surgery.

"We thought the first surgery was intense and the worst was past us but we were very, very wrong."

Reggie and Sontina had discovered that Selah's phrenic nerve, the nerve that supports the movement of the diaphragm, was nicked during surgery.

"Every time they tried to take her off the ventilator, she would go into respiratory arrest," Sontina said. "For two and a half months, we didn't know and the doctors didn't know why and finally they discovered it. We ended up leaving that second surgery with her having to get a tracheotomy and a feeding tube."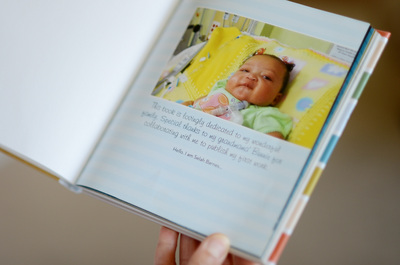 Melanie Maxwell | AnnArbor.com
Despite all of this, the Barnes noticed that their daughter's condition began to improve.
"When we went into the cardiologist, it was just about time for her third surgery and they said take her home and enjoy her and that we didn't need to look toward having a third surgery," Sontina said. "She was doing so great. She had started to stand up and walk."
One night changes everything
A bit of normalcy returned to the Barnes' lives. Sontina was back in law school and Reggie was working as the director of diversity and community involvement at Eastern Michigan University.
This past Valentine's Day, the couple decided to go out and enjoy the evening together, while Selah's nurse took care of her. When the Barnes came home that night, they noticed something was wrong.
"Her feeding tube was sticking out of her belly abnormally, so we decided to take her to the hospital," Sontina recalled. "On the way there, it slid back in so we went back home because she was her normal, happy self."
Around 3 a.m., they were startled to hear Selah's alarm going off. They immediately ran downstairs to her room to see what was going on.
"It was really atypical because we hadn't heard those alarms going off in so long," Sontina said. "It was literally almost a year since we heard that and I came downstairs and saw a look of terror on the nurse's face. I had never seen her so nervous and she looked at me and said, 'call 911 immediately.'"
When the ambulance arrived, Selah was turning blue in the face but by the time she got into the ambulance, she began to look herself again.
"We thought it was going to be a typical trip to the ER to check everything out and then we would go back home," Sontina said.
After being examined in the ER, Selah was admitted to Mott Children's Hospital that night and was scheduled for surgery on Feb. 16 to replace her feeding tube and fix her eyes. After the surgery, she went back to her room to recover and doctors said they could take her home the next day.
Things took a turn when Selah began to have seizures at 11 p.m. that night. The next morning on Feb. 17, Reggie went to the hospital to see Selah and watched her have two more seizures.
"I was holding her hand when she had the last one," Reggie said.
Soon after, Selah slipped into a coma.
"She still had brain activity, so everyone still had hope that she would recover," Reggie said.
Later that afternoon, Selah ceased to have brain activity. The tone of all of the doctors and nurses changed, Reggie said.
"They performed several tests for brain responsiveness late that evening, prematurely declaring her brain dead," Reggie said.
The Barnes still hoped their daughter would pull through. The doctors did another round of tests on Feb. 19 before they made any official conclusion on her status.
After no response again, they officially declared her brain dead.
"To this day, we still don't know what happened," Sontina said. "Something took a turn that night and no one knows why."
Saying goodbye
When the doctors realized Selah wasn't coming out of the coma and her brain started to swell, they began to prepare the family to say goodbye.
"They gave me a whole night where I went into her room and I got into the bed at 10 p.m. and held her all night until 7 a.m.," Sontina said. "We had a lot of time, relatively speaking, to love on her and to say our goodbyes."
"The hospital began to plan for her death and that was really hard for me because I wanted them to continue to fight for her," Sontina said. "It became reality. When they asked me to hold her hand, I knew I had to say goodbye."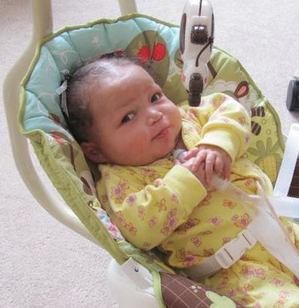 Courtesy photo
A gift of life
Shortly after Selah was pronounced brain dead, the family was approached by a doctor who asked if they had thought about donating her organs.
"As soon as they said Gift of Life, for me, it was immediate," Sontina said. "There wasn't a doubt in my mind that that was something I wanted to give to another child."
Reggie also wanted to donate, but he still prayed for a miracle.
"I must be honest and say that my initial thought was that if for some reason she doesn't come back to life, I would want to donate as many organs as possible, but I was waiting for a miracle to happen," he said.
On Feb. 22, Reggie and Sontina walked Selah to the operating room where the organ donation process took place.
"The whole time waiting, we felt like the doctors would say at anytime, 'oh my God she woke up,'" Sontina said. "The nurse finally came in and said the organ donation process was really successful and at that moment we realized, wow she's really gone."
Selah died a little more than a month short of her second birthday.
The doctors were only able to salvage Selah's liver. It went to a child at the same hospital and the Barnes heard that the baby is doing well.
"We didn't get a chance to meet the family, but we let the company know that at some point we will be open to meeting them," Reggie said.
Sontina said donating Selah's organ brought her some closure in knowing that she didn't die in vain.
"It is a huge gift to know that a child is living because of her," Sontina said. "It was an incredibly tough decision but I look back on it and realize that it was absolutely the right one to make."
Tim Makinen, director of communications for Gift of Life, said there are nearly 3,000 people waiting for life saving transplants -- including young children. In Washtenaw County there are nearly 121,000 people that have joined the registry. Statewide there are about 2.6 million people.
"...For most families, it brings them great comfort knowing their loved one's final act was one of great generosity," Makinen said.
Although there is no way for a parent to get complete closure following the loss of a child, Reggie said, he has felt some comfort.
"Losing a child is like a perpetual hole that never fills," Reggie said. "However, it did give me the feeling that a child will live on forever through her. To help sustain the love another parent has for their child is a source of pride and joy for us to know we did that for someone else.
Finding strength to carry on
Josiah, their now 4-year-old son, is just now beginning his grieving process.
"We were baffled because he was OK in the first month after," Sontina said. "He was really quiet."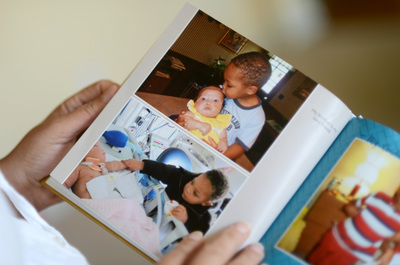 Melanie Maxwell | AnnArbor.com
Now, he's beginning to realize his sister is gone.
"I would always read a story to them at night," Sontina said. "They would have bath time and story time together and now he's asking why she isn't here. It gets tougher now because I hear him at night saying his prayers. Sometimes he says, 'OK God, you can send Sissy back now.' It's really heart wrenching."
While some marriages might crumble after being faced with so much hardship, Sontina and Reggie said their love for each other has grown.
"I fell in love with Reggie over and over again in the process and a lot of people can't say that," Sontina said. "I feel blessed to say that I love him so much."
Reggie said experiencing financial burdens and the loss of his daughter could have potentially destroyed their relationship but it instead proved how strong their marriage was.
"This has brought us closer and in a way that completely baffled people but this is the only way we can make it through this," Reggie said.