Posted on
Mon, Jan 18, 2010 : 3:17 p.m.
'Speak truth to power,' Keith Boykin tells crowd at Eastern Michigan University in MLK Day address
By Juliana Keeping
Speak truth to power.
That was the central message in a keynote address to commemorate Martin Luther King Jr. Day at the Eastern Michigan University Student Center this morning.
Keith Boykin, a TV host, editor and author, told the large crowd that speaking truth to power is a willingness to engage people who disagree. His speech was peppered with the civil rights leader's philosophy and President Barack Obama anecdotes.

Angela Cesere | AnnArbor.com
"Dr. King would stand up for what is right, no matter who was for it or against it, and we have to do the same thing, too," Boykin said.
Boykin attended Harvard Law School with President Obama. While there, Boykin protested perceived unfair hiring practices that left Harvard Law faculty with few black male faculty members and no black females. Along with Obama and other protesters, Boykin participated in three sit-ins in the law school dean's office and attempted a takeover over of the president's office.
When Boykin, a first-year law student, called out to the law dean to talk to his group following an event, the dean ignored him - twice, Boykin said.
Then the dean began to run. Boykin, a collegiate track and field athlete, said he chased the law dean across campus with his protest sign in hand to get him to talk. A photograph of the chase appeared the next day in the Boston Globe.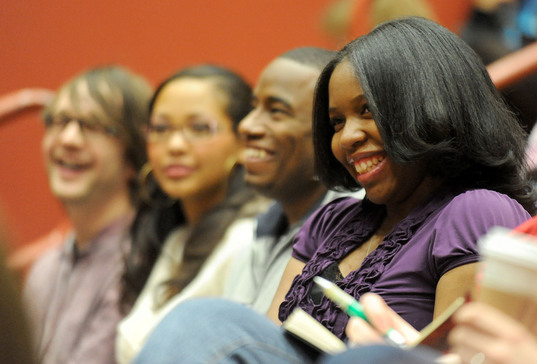 Angela Cesere | AnnArbor.com
"We have to be willing to stand up for what's right in our own communities," Boykin said.
"If Dr. King were alive today, he would stand up for the 50 percent of Detroit residents who are unemployed," he continued. "For the millions of Americans who don't have health insurance. For the 2 million Americans who lost their homes in the past year. For the thousands of young people dying in Iraq and Afghanistan."
Boykin - a lifelong Democrat and CNBC contributor, BET TV host and author of three books - has involved himself in progressive causes from a young age. The veteran of six political campaigns worked on his first Congressional campaign while still in high school.
After law school, instead of pursuing a law career, he quit to work on Bill Clinton's campaign - it was the first campaign in almost a decade he'd helped that actually won.
Boykin ended his speech with a Martin Luther King Jr. quote that encourages the fortitude and patience it may take to keep doing what you believe.
"If you can't fly, run. If you can't run, walk. If you can't walk, crawl. But by all means, keep moving. Keep moving. Keep moving."

More than 40 years after the civil rights leader's death, students said they connected to his message.
"I'm inspired to go stand up for what I believe in," said Jenae Taylor, who listened to the address. For Taylor, the daughter of an Ohio pastor, that means working with youth at a local church.
Juliana Keeping covers higher education for AnnArbor.com. Reach her at julianakeeping@annarbor.com or 734-623-2528. Follow Juliana Keeping on Twitter