Posted on
Thu, Aug 1, 2013 : 5:34 p.m.
Special weather advisory in effect for Washtenaw County
By Chelsea Hoedl
A special weather advisory is in effect for Livingston, Oakland, Washtenaw and Wayne counties.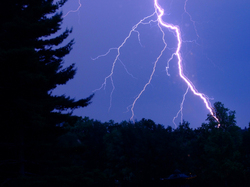 Photo by Thomas Bush
At about 4:30 p.m. a strong thunderstorm near Howell was moving southeast at 30 miles per hour.
Penny-sized hail and strong winds greater than 30 mph are possible. According to the National Weather Service, strong wind may cause small objects to blow around and shelter should be taken.
There is no Severe Weather Warning or Watch at this time, according to NWS.
Tonight, showers in Ann Arbor are likely with a possibility of a thunderstorm before 7 p.m.
Friday there is a chance of showers and thunderstorms after 9 a.m. with a high of 77 degrees and a low around 59.
Partly sunny skies are predicted for Saturday with a slight chance of showers and thunderstorms. The high will be near 75 and the low will be around 53 degrees.
Sunday will be sunny with a high near 72 and a low around 56, with partly cloudy Sunday night.
For updated conditions and forecasts anytime, check AnnArbor.com's weather page.
Chelsea Hoedl is an intern reporter for AnnArbor.com. She can be reached at choedl@mlive.com.