Posted on
Tue, Apr 13, 2010 : 6:02 a.m.
Speed limit raised to 65 miles per hour on M-14 near Barton Drive
By Erica Hobbs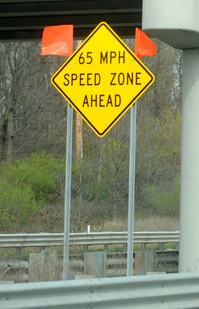 Angela J. Cesere | AnnArbor.com
Motorists on the Ann Arbor portion of M-14 can drive by the city a little bit faster now.
The Michigan Department of Transportation just raised the speed limit to 65 miles per hour from the former 55 mph zone surrounding Barton Drive.
MDOT spokeswoman Kari Arend said the change was based on a joint speed study conducted by MDOT and the Michigan State Police that found the majority of motorists were traveling closer to 65 miles per hour instead of the posted 55.
"What we like to see is motorists traveling a consistent speed out there," she said. "We feel it's safer to have motorists traveling near or close to the same speed limit."
Arend said workers changed the eastbound M-14 signs last Tuesday, followed by the westbound M-14 signs soon after.
Lt. Gary Megge of the Michigan State Police Traffic Services Division said the change wasn't an increase as much as it was a correction. He said the "artificially low" speed limit before caused more variations in driving speeds because only a few motorists actually obeyed the law.
"What we don't want is that variance," he said. "We tend to create problems when that happens."
Megge said the change should reduce instances of tailgating, lane changing and passing to make driving along that portion of the highway safer.
Despite the increase, Arend said motorists still need to use good judgment when driving on the highway.
"The speed limit on the sign is basically the speed for ideal conditions," she said. "Motorists still need to exercise caution and drive for current conditions."
Megge said he didn't anticipate any additional law enforcement to monitor the change. He said people will most likely not notice a difference.

View Speed Zone Signs in a larger map
Erica Hobbs is a reporter for AnnArbor.com. Reach her at 734 623-2537 or via e-mail at ericahobbs@annarbor.com.