Posted on
Mon, Mar 15, 2010 : 5:55 a.m.
Bicyclists and drivers need to look out for each other on Ann Arbor area roads
By Rich Kinsey
Spring is just around the corner, and it's time to think about bicyclists re-entering the traffic picture. Motorists and bicyclists are often at odds, and this causes friction between the operators of both sorts of vehicles.
Patience, some planning and common courtesy are the keys to safely sharing the road.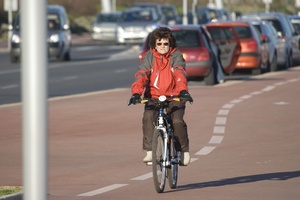 First and foremost, drivers must be able to see these smaller vehicles on the road. For those driving cars, that means investing in sunglasses because the most deadly time for bicyclists and pedestrians is when the sun is rising or setting.
If you're a bicyclist, you must be aware of this, especially when riding into the sun. When doing so, you and your bicycle are only a silhouette near the side of the road. You should consider wearing a neon lime green top with reflective stripes and putting a flashing strobe tail light on. High visibility is the key.
Strobe lights on the back of bicycles are a great idea. (Thank you to the bicyclist who rode eastbound on Jackson and Huron at 'o-dark-thirty when I used to drive into work. You made a believer out of me.) The flashing strobes can be seen from a long distance, especially in low-light situations. Legally, bicycles must be equipped with lights to operate in the street during hours of darkness.
Bicycle helmets are also a must. Many years ago, a University of Michigan Hospital doctor  was riding her bicycle on Washtenaw Avenue - always a risky endeavor - near Huron Parkway into the setting sun. She wasn't wearing a helmet, and a driver didn't see her. The driver's vehicle tapped the back of her bicycle as his car came to a stop at the traffic signal. 
The rear wheel of the bicycle didn't have much damage, but the impact was enough to knock the bicyclist off the back of her bicycle. The poor woman's head struck the curb. Had she been wearing a helmet, she likely wouldn't have died. Helmets worn by bicyclists, like seatbelts worn in automobiles, save lives. If you are a parent, make sure your children wear helmets when bicycling.
I bicycle on secondary county roads. I try to stay close to the fog line - the white line on the right side of the road - or on the paved shoulder if one is available. Sometimes it is impossible due to rough pavement, pot holes, broken glass or other debris. 
Bicyclists should consider investing in a rearview mirror for their bicycle or helmet and check the mirror before veering into the lane to avoid obstacles. Michigan motorists know all about rough roads, but must realize the problem is magnified on a bicycle. Therefore, motorists should allow bicycles half the lane when passing.
Bicyclists, on the other hand, must remember that although the state of Michigan allows bicycles to legally ride two abreast, it can be dangerous and inconsiderate. You shouldn't ride two abreast on hills or curves because it is dangerous. You should not ride two abreast on narrow two-lane roads, especially if you are holding up traffic. It may be legal, but it is inconsiderate and could become dangerous.
Bicyclists in the city should use bicycle paths where they're available and avoid darting in and out of traffic. For motorists, avoid using the bicycle paths to pass cars making left turns.
If you're a bicyclist on the sidewalk, pedestrians have the right-of-way. Bicycle slowly and carefully near driveways, storefronts, alleys and corners. When approaching a pedestrian from behind on the sidewalk, a bell or a friendly call of "passing left" to alert the pedestrian is a proper and courteous approach.
Bicycles are fun and are increasingly being used as modes of transportation. Bicycles are eco-friendly and reduce our dependence on foreign oil. They're here to stay, so motorists and bicyclists must learn to share the road.
Lock it up (invest in a good bicycle lock and use it), don't leave it unattended (it doesn't take long for someone to hop on your bicycle and ride off), be aware (that bicycles can be hard to see), and watch out for your neighbors.
Rich Kinsey is a retired Ann Arbor police detective sergeant who now blogs about crime and safety for AnnArbor.com.