Posted on
Fri, Mar 1, 2013 : 2:55 p.m.
Sign of spring: Ann Arbor Dairy Queens open for business
By Kody Klein
The weather might not look like it, but the Dairy Queen on West Stadium Boulevard in Ann Arbor has declared that spring is here.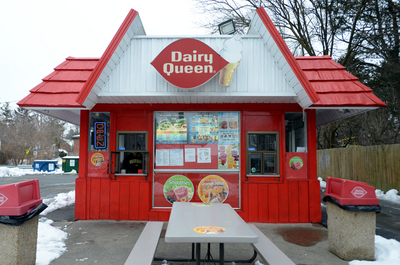 Melanie Maxwell | AnnArbor.com
The seasonal restaurant opened at noon on Friday despite less-than-ideal weather.
"It's our 38th season for my husband and me," said Diane Kerr, who co-owns the store on 2430 West Stadium Blvd. with her husband, Kevin.
"Last year, when we opened, it was 66 degrees - we raced to get our help trained and we raced to get our equipment going!" she said. "And what a difference it is this year."
Kerr said the restaurant always opens in early March, and there are advantages to having a slow opening.
"It's kind of a mixed blessing being slow in the beginning," she said. "We get our equipment going and get everyone trained."
The Dairy Queen at 8041 Main St., Dexter, also opened at noon Friday. A Dairy Queen the Kerrs own in Ypsilanti at 101 East Michigan Ave. will open Wednesday. The Dairy Queen at 1805 Packard St. in Ann Arbor opened Feb. 13. The Dairy Queen at 400 E Michigan Ave, Saline, opened Feb. 7.
The early season at the Packard Street Dairy Queen has been slow as well. Owner Gary Cohen, said the business has only had three busy days since it opened on Feb. 13.
"It's supposed to be around 45-50 degrees by the end of next week, so we're looking for that," he said.
Despite the slow start, Kerr said she's confident business will pick up as soon as the weather improves.
"We know people will come," she said. "We hope for a little sunshine. That's all it takes."

View Ann Arbor Dairy Queens in a larger map