Posted on
Sat, Oct 1, 2011 : 10:48 a.m.
St. Joseph Mercy Hospital Ann Arbor celebrates 100th birthday Sunday
By Lisa Carolin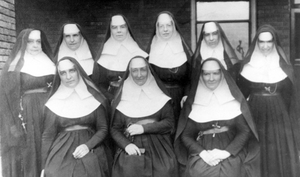 Photo courtesy of St. Joseph Mercy Hospital
The changes at St. Joseph Mercy Hospital in Ann Arbor in the last century have transformed the facility from a small structure at the corner of State and Kingsley streets to a campus of buildings that covers more than 350 acres in Superior Township.
On Sunday, Oct. 2 from 1-3 p.m., St. Joseph Mercy Ann Arbor will celebrate its 100th anniversary with a tour of its farm, indoor garden, chapel, heritage exhibit and more.
"It's the one time to come to the hospital and not have anything that hurts ," said Rob Casalou, president and CEO of St. Joseph Mercy Hospital, Ann Arbor, Livingston and Saline.
The original St. Joseph's Sanitarium was started by four sisters of Mercy from Dubuque, Iowa in 1911. A new hospital was opened in 1914 on Ingalls Street in Ann Arbor. It wasn't until 1977 that the hospital moved to Superior Township.
Casalou says that despite tough economic times, St. Joe's Health Care Systems created reserves that have allowed major expenditures in the last five years such as the new patient towers with new operating rooms, the St. Joe's Market Cafe, and the Inspirit Salon & Spa. The St. Joseph Health Care System is part of Trinity Health, which is based in Novi, and is one of the largest Catholic health care systems in the U.S.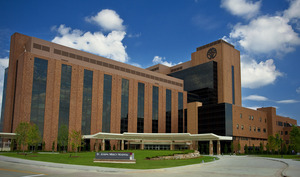 Photo courtesy of St. Joseph Mercy Hospital
In addition to tours Sunday of many of the hospital's new areas, there will also be a classic and antique car show, free seated massages from Inspirit Salon & Spa, and food sampling at the new St. Joe's Market Cafe, which opened in early September. It's actually the hospital's cafeteria, and it now offers healthier foods.
The campus includes a working farm and hoop houses that grow year-round. Casalou said it's all part of the plan to improve the hospital's environment for patients, visitors and employees.
"In 1911, they could not have imagined what it would be like today, and we can't imagine what it will be like 100 years from now," he said.
Lisa Carolin is a freelance reporter for AnnArbor.com. Reach the news desk at news@annarbor.com.