St. Joseph Mercy Hospital officially opens doors, prepares for patients
Posted on Thu, Apr 15, 2010 : 4 p.m.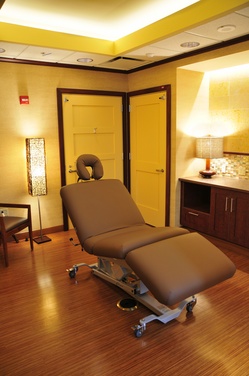 Courtesy | St. Joseph Mercy Health System
St. Joseph Mercy Hospital in Superior Township officially opened the amenities in its second patient tower this week and is preparing to move patients into the tower. Its chapel opened earlier this month in time for Holy Week services.
The hospital will hold an open house for the public this Sunday, April 18 from 1-3 p.m. to allow the public to see the North tower.
The main entrance and consumer corridor - including a new Joe's Java coffee shop, a convenience store and a pharmacy gift shop - opened on Monday. A new salon spa business on the first floor is planned to open next Monday.
The North Tower is part of a $294 million project to update the hospital's surgery pavilion, patient towers, chapel and main entrance.
A main entrance is the next and final phase of the project. The existing main entrance has been permanently closed, and the current entrance to the North Tower is serving as the hospital's main entrance.
Patients are expected to move into the 194 rooms inside the new tower in May.
"We are positioning ourselves now to enter into a new era of care with a fully renovated campus," Rob Casalou, president and CEO of St. Joseph Mercy Ann Arbor, Saline and Livingston hospitals said in a press release. "The completion of the patient towers project is the culmination of much hard work; it represents our dedication to serving the community for many years to come."