Posted on
Thu, Jan 6, 2011 : 6:05 a.m.
St. Joseph Mercy hospitals make flu, whooping cough vaccinations mandatory for employees
By Juliana Keeping
St. Joseph Mercy hospitals have made flu shots for employees mandatory this year for the first time, warning workers that they must get vaccinated or could lose their jobs.
Lakshmi Halasyamani, vice president for quality and systems improvement, said the tougher stance on vaccinations is meant to protect patients. Typically, only about half of St. Joseph employees got a flu shot when an immunization program was voluntary — despite memos, free vaccination clinics and a Centers for Disease Control and Prevention recommendation.
"Patients who are hospitalized are hospitalized because of many chronic conditions and may be on medications that might decrease their immunity," Halasyamani said. "They may be the least well able to tolerate the flu."
St. Joseph's new mandatory immunization program began in November and encompasses more than just the flu. Employees also must receive vaccination for pertussis, which is commonly referred to as whooping cough, officials said. A Tdap vaccine protects against tetanus, diphtheria and cellular pertussis.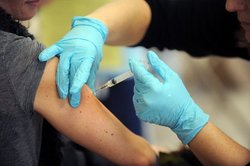 About 7,000 workers at St. Joseph Mercy hospitals in Ann Arbor, Saline and Livingston, as well as the Brighton and Canton outpatient facilities, have until Jan. 10 to get vaccinated.
Washtenaw County is in the midst of a whooping cough epidemic, with 232 cases reported through Dec. 20, according to health department officials. In 2009, 81 cases were reported.
Halasyamani said infants and children are particularly at risk for pertussis, a respiratory illness that can be deadly. The epidemic and vulnerability of young patients are big reasons St. Joseph decided to require an immunization or booster for employees as a condition of employment, Halasyamani said.
The Tdap and flu shots are required of all workers, not just those who work directly with patients, Halasyamani said. Individuals can decline the immunizations if they have documented medical reasons. Those who disagree on other grounds, such as religion, will be evaluated case-by-case.
The hospitals have seen pockets of resistance from employees to the policy change, Halasyamani said. St. Joseph launched an internal blog to address concerns.
"We live in a diverse society, and people have different beliefs," she said.
Mandatory flu vaccination programs are a growing trend among hospitals nationwide.
David Dull, a vice president for quality and patient safety for Spectrum Health, said the health system's mandatory vaccination program for the flu began in 2009. The program encompasses five of nine hospitals and 14,000 of 16,700 employees on the west side of Michigan.
Compliance has been about 90 percent.
"It causes about 20,000 deaths in the population every year," Dull said of the flu. "We know there is an effective vaccination. We also know that patients who come to hospitals are particularly susceptible to complications from the flu. It made intuitive sense to us that we would vaccinate our staff."
At the University of Michigan Health System, which has about 25,000 employees, most workers must either receive a flu shot or wear a mask during flu season, a more stringent requirement than in years past.
At least six professional organizations for health care workers have penned policy statements since 2009 supporting mandatory vaccination programs.
But the largest health care union in the country is against mandatory vaccination programs, said Zac Altefogt, spokesman for SEIU Healthcare Michigan. The union has no members at St. Joseph hospitals, which are non-union, or the UMHS.
"We think that voluntary programs are the way to go, that they're positive and increase vaccination rates," he said.
Altefogt called programs like those at St. Joseph hospitals and UMHS punitive and unnecessary. According to that group's position statement, the programs can hurt workers by driving them from their professions and providing a false sense of security involving infection control.
Stacy Hickox, an assistant professor in the school of human resources and labor relations at Michigan State University, said it would be difficult to challenge a mandatory flu program in court because of a hospital's interest in protecting its patients.
"I don't see it (a challenge) succeeding," she said.
Juliana Keeping is a health and environment reporter for AnnArbor.com. Reach her at julianakeeping@annarbor.com or 734-623-2528. Follow Juliana Keeping on Twitter